The amount of options out there for choosing a gate can be daunting.  There are so many vendors, contractors, and do-it-yourself options, that it can give you decision paralysis.
Aside from the way you want your gate to look, there are a lot of other things to consider: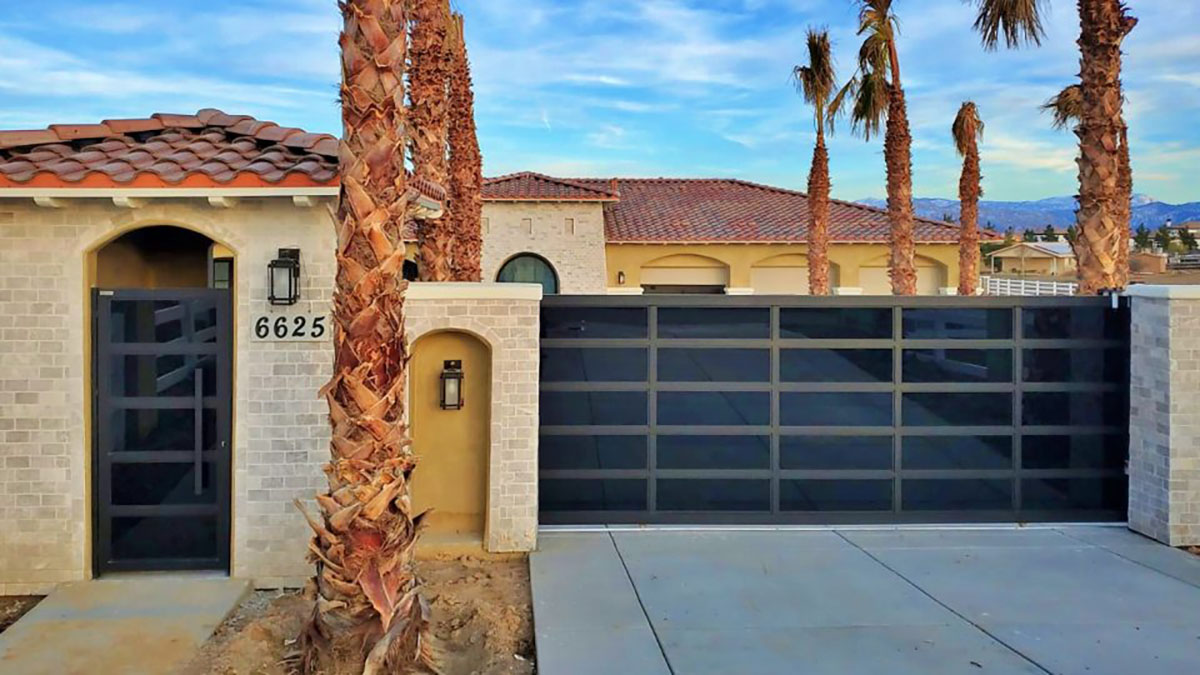 The Height of Your Home
A lot of properties in the Los Angeles area are post-ww2 era homes that are often one story with a short driveway.  This presents some obstacles for gating the area, as many home owners want security and privacy, but don't want their house completely hidden from the street.  Short picket fences don't offer much for security or privacy.  But there are solutions.
The Depth or Slope of Your Driveway
Sometimes, an obstacle to making a gate work for you, instead of against you, is the shape and slope of your driveway.  Some driveways are steep, and swinging gates can't always work well, especially with a motor.  Sometimes retractable gates can offer a solution, but again – your property might have issues that make a retractable gate less than ideal.
Over the years, we've developed many creative solutions for unique logistical problems.  The video below shows off just one of those solutions, which we call "The Hillside Hinge":
Materials & Styles
The main materials you want to look at for your gate are :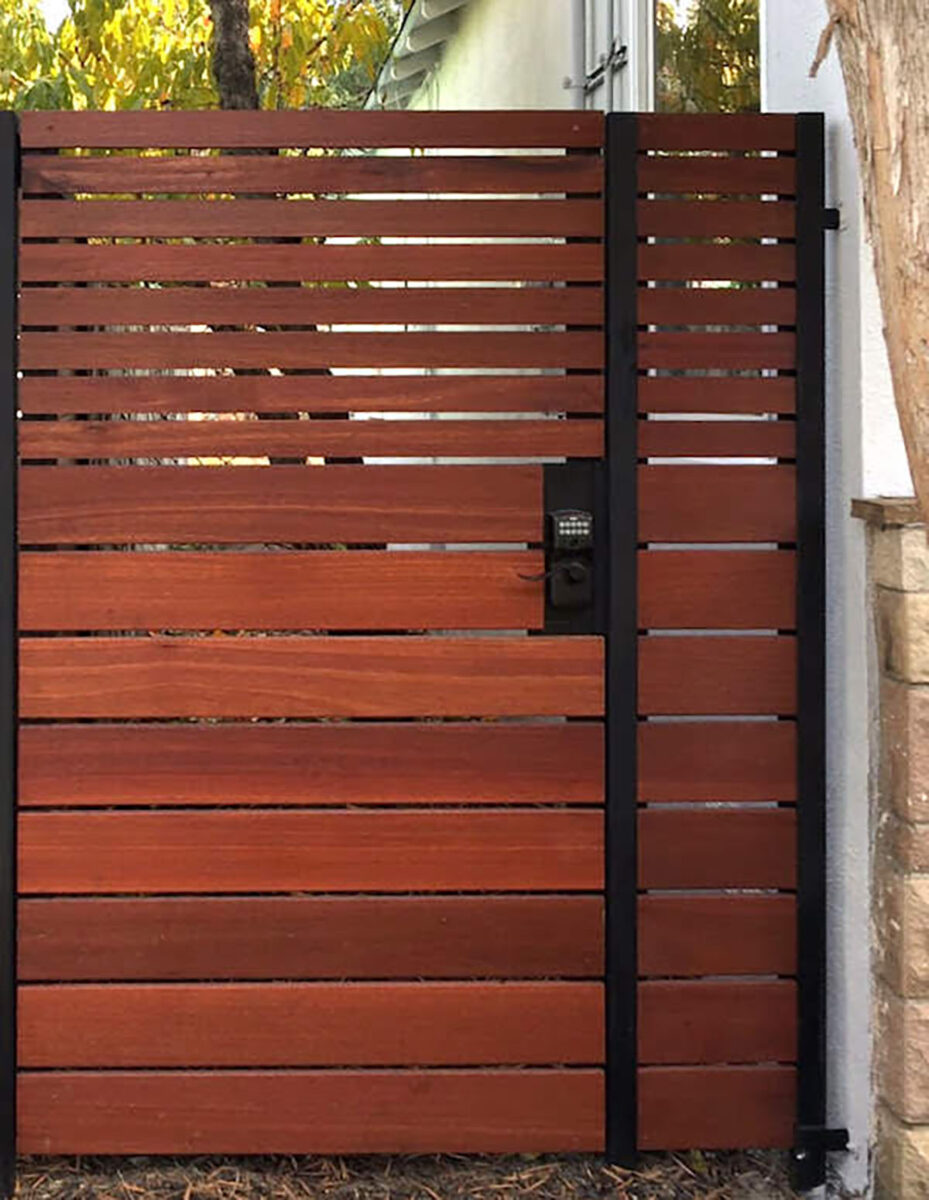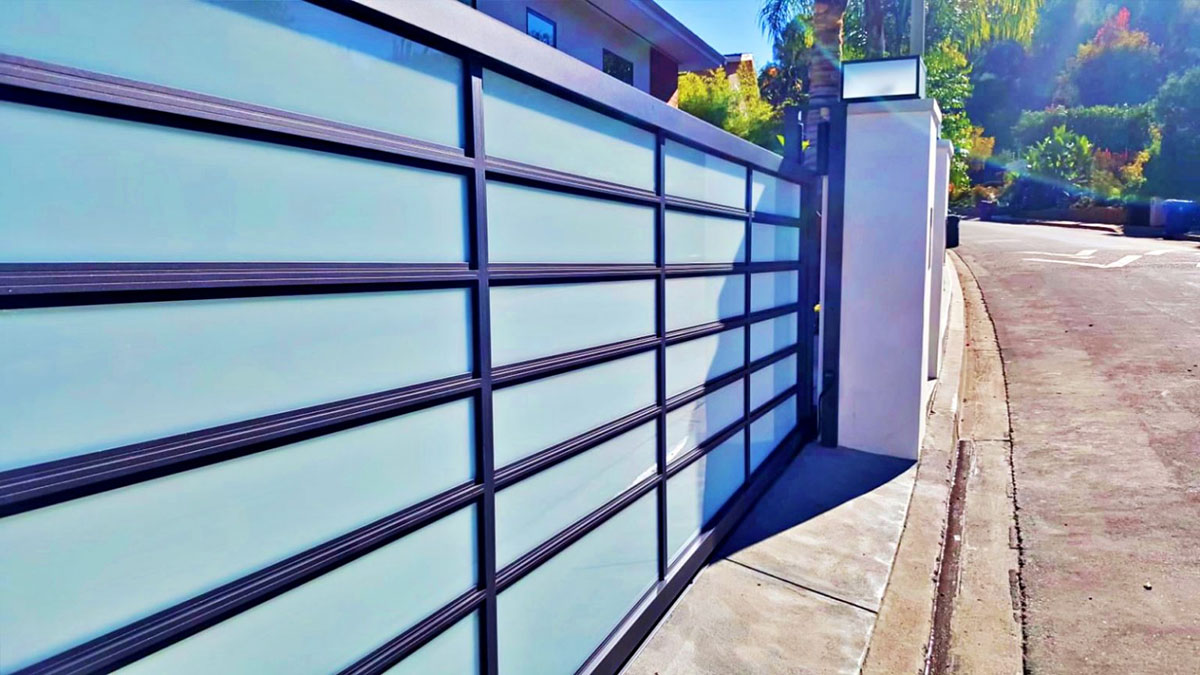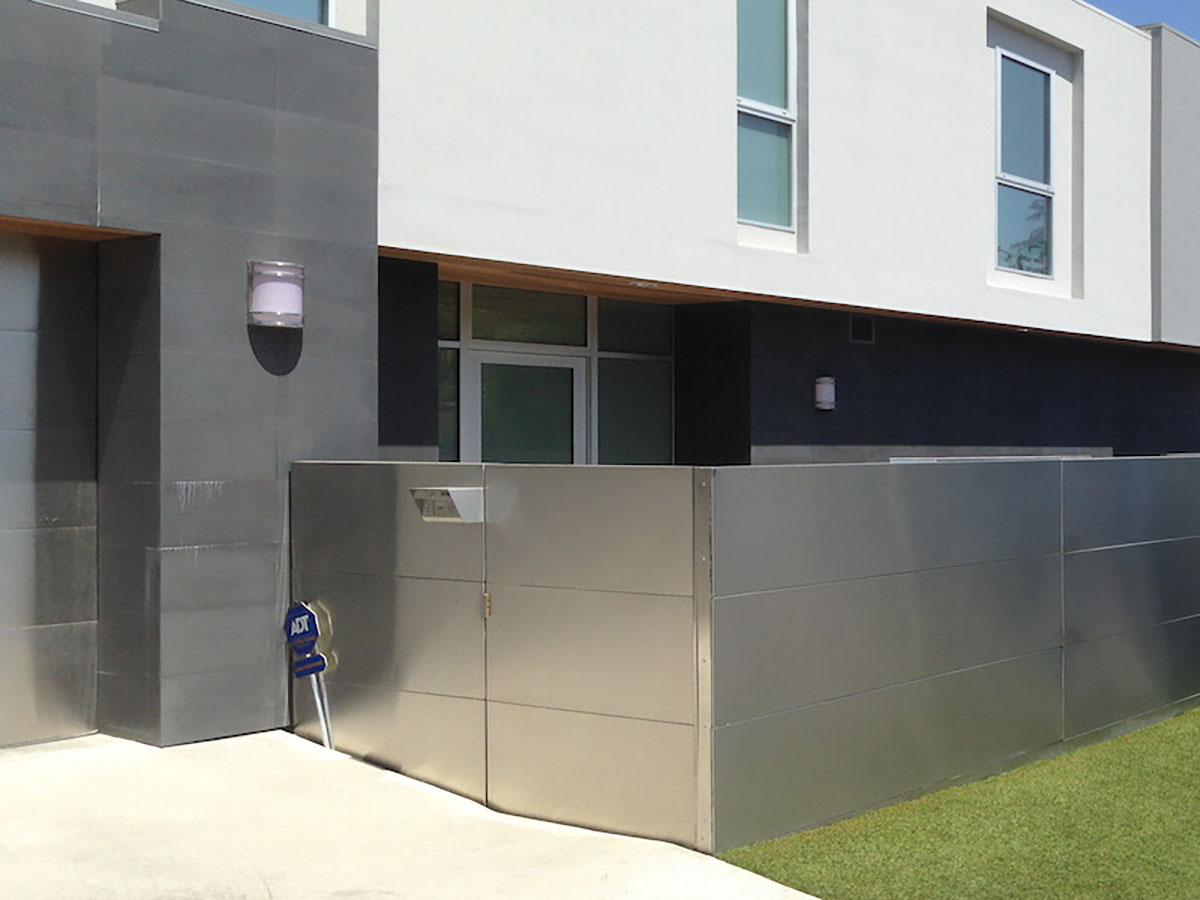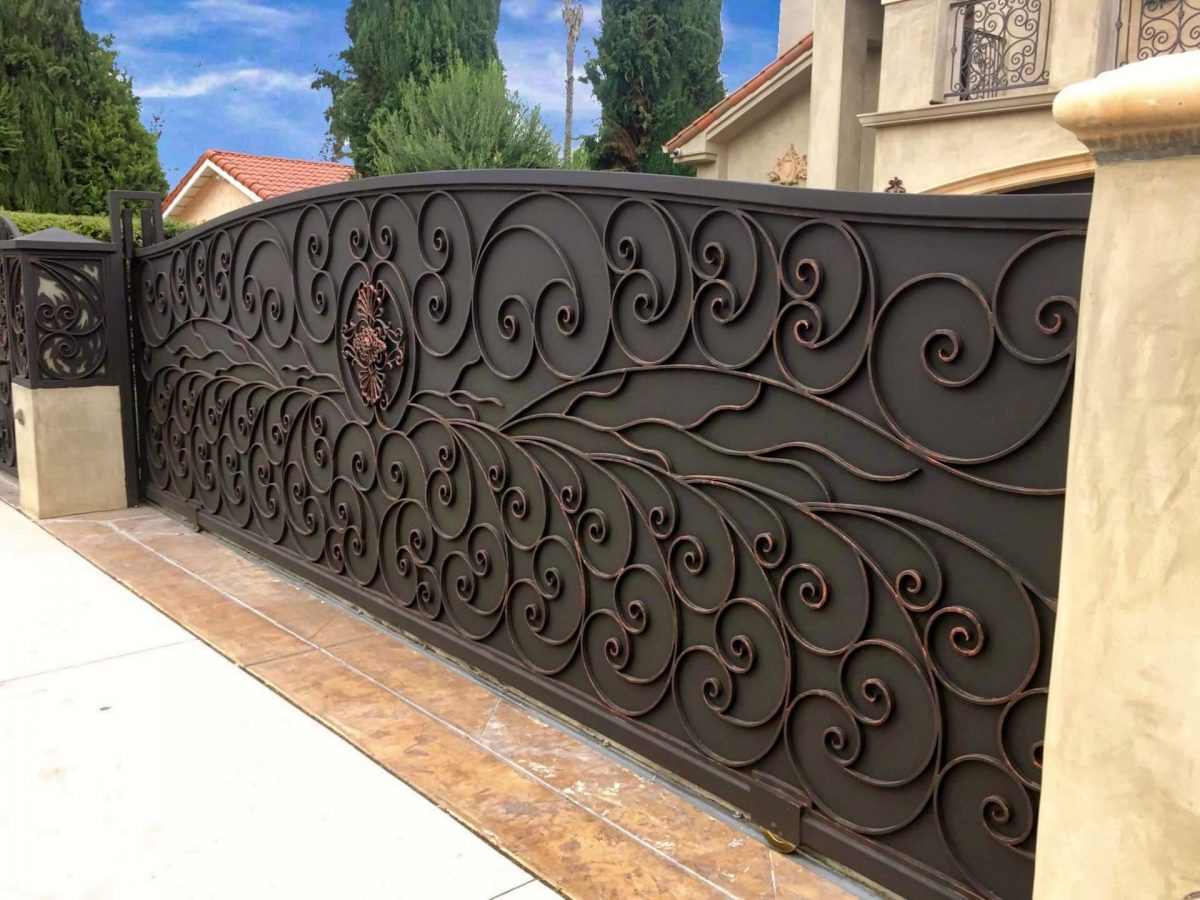 Some materials work well in some neighborhoods, and some don't.  Iron gate solutions are not ideal for properties in Santa Monica or the West-side, because of the salinity in the air, gates and fences can be high-maintenance to keep them from corroding.  Wooden options can hold up better, if you provide them with the right kind of weather-proof treatments.  But you are still leaving yourself open to a mite or pest problem down the road that can make wood a short-term investment.
Properties in the industrial area (Van Nuys and Burbank) are often provided with iron fencing, as its more common in that area.  Commercial and retail zones have seen a surge of new aluminum alloy solutions, because they offer a clean and contemporary aesthetic that can actually elevate the style of public areas with a contemporary feel.  This is happening quite often in outdoor malls throughout Hollywood, Santa Monica, Calabasas, and Woodland Hills.
Occasionally, aluminum or steel solutions may not be preferred if the style of your home is older, or Tuscan, and you want a gate to match your property.  At that point, its helpful to speak to a contractor to get their design ideas.  Custom materials, designs, and styles can be used for fencing and gates, whether they're manual or automatic.  If you're looking for a solution that really speaks to the personality of your home and for the character's within – explore the idea of adding a custom touch.  A good designer can provide you with CAD renderings to show you how the gate will look on your property once completed.  We do all of that in-house, but this is an important step to consider before you hire anyone to begin an installation.
VIEW MORE DESIGNS IN OUR INSPIRATION GALLERY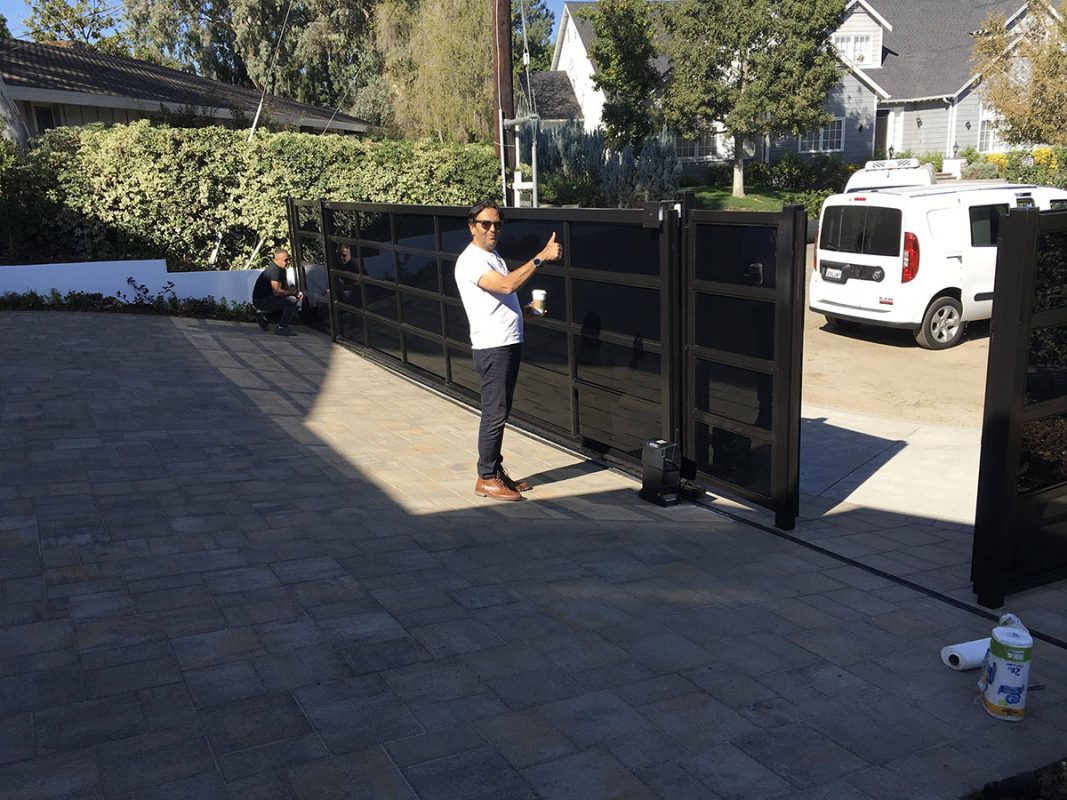 Avoiding Costly Headaches & Neighborhood Fines
Before you install a gate, it's important to ask the right questions first before you build something that can be a more expensive legal headache later. Knowing the rules of your city zoning, permit issues, and any rules placed by an HOA or community are critical steps to making sure your investment doesn't bite you where it hurts, later.
Often times, property owners dont even know the right questions to ask, which is a great opportunity to get us on the phone for a free consultation.
We work directly with homeowners associations, the city, and state to handle all of the white paper issues that can lead to trouble.  We also understand the importance of respecting your neighbors. We've been building gates all over Los Angeles for over 25 years, so chances are, we've already serviced someone in your neighborhood.  Give us a call for a free, no-pressure consultation and we will help guide you through the process (whether you to choose us as your contractor, or not).
REACH OUT TO US
Contact us for a FREE no-obligation, friendly consultation.  Our experts have over 25 years of experience building and installing gates & fences in the Los Angeles area.
SCHEDULE A MEETING
Or call us at (818) 639-3820 9am to 5pm Mon-Fri.