Thank you for the Love.
We have a 4.9 star rating on Google with over 150 reviews.  Here are just a few!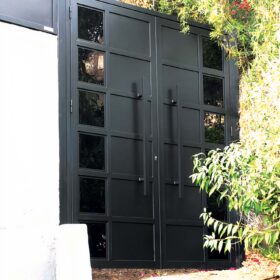 Thank you for the great quality and design on the custom stainless steel gate you and your team built and installed for us on Lookout Mountain.
This is such a nice job! The gates have has such a great look and have added a wonderful finished touch to the properties.
I appreciate that your team of craftsman, welders, installers, and low voltage technicians were very professional and organized in putting everything together so well.
The installation was completed a few days early which is always nice, and as always, on budget of course.
I'm looking forward to working with you again in the near future.
Let me know if I can ever be helpful.
Please feel free to use my company and/or my name as a reference.
We found Mulholland Security Centers through the Better Business Bureau.
Mulholland offered us a number of choices of which to choose from. After a quick evaluation of our building Mulholland recommended a system that would best fit our needs.
The installation process was convenient and their technicians worked quickly and efficiently. In a matter of days we had a security system that has provided a great deal of security, not only for our establishment but for our staff as well.
Their technicians were accommodating and guided us step by step on learning how to use our new system. Whenever we are in need of their assistance they were only a phone call away.
I am pleased to say that the services provided by Mulholland Security Centers exceed our expectations and we would be more than happy to recommend their services to anyone else in need of security . On behalf of the entire staff, we would like to say "Thank you".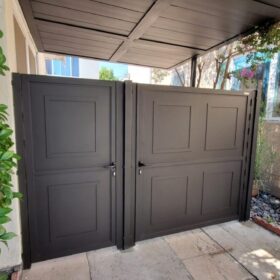 I am writing to thank you and your staff for facilitating our move to 10911 Weyburn Avenue last year. Your company's prompt response to our many request for re keying keys and other realted hardware problems made the transition in to the new 10,000 swuare foot space easier to manage. More critical at the time was the need to install at the earliest possible time, a security keyless system in the building. 
Your promp guidance in the selection of a system and the quick turn around in the installation was a welcome sign to the building occupants and me.
Additionally, I appreciate your personal attention in reviewing with me your assesment for a video security system for the building. THe time and effort you devoted in inspecting the property and in recommending a system relect on your company's focus on customer service.
Again, thanks for you kind help
Thank you for the book with the secret security box inside. It is a thoughtful and practical gift which I know I will use in my new home.
It was a pleasure for me, as well, to meet you at the Studio City Hand Carwash reception early this month. Your kind words welcoming me into the Studio City community of families mean a great deal to me.
If there is any way I can be of help to you in the future, please do not hesitate to call my office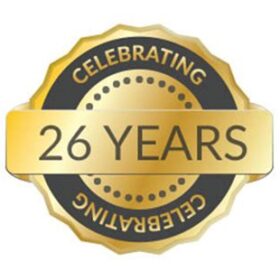 Mulholland Security Centers has been performing regular and emergency services at the Burbank/Bob Hope Airport for the past five years.
They have always responded in short time, whenever the airport places a call for service. They have always been able to handle all calls whether it is during normal business hours of after hours when an emergency might arrive. They have always been able to respond to fix a problem or have been able to procure repair parts almost immediately to take care of any problems. I am happy to and freely would give reference to their services to anyone that needs door, lock or hardware services. They have been a true friend to the airport.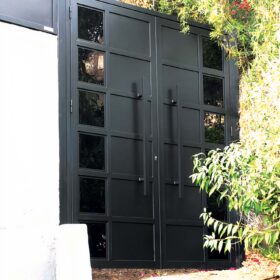 I would like you to know that I am very appreciative of your service and great pricing you provide here at EVO. Because of that I would like to share your services and expand your business by adding you to our Action preffered venders list.
This list is shared by all communities and properties managed by Action.
As always your services are very important to our management company and the residents we serve.
ICO Investments Group, Inc., a property management company together with all its affiliates, hereby gives recommendation to Mulholland Security Centers for their exemplary work they have provided our company. Their quick response and accommodation to our needs especially during emergency situations is outstanding. They have done numerous jobs for us and will continue to avail of their services. We are a satisfied customer!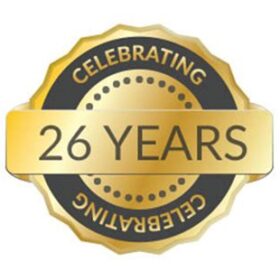 It gives me the greatest pleasure to write this letter of recommendation.
I have been using Mulholland Security Centers for quite some time and they provided us with exceptional service.
This company combines reliable, fast and very professional service with reasonable prices.
I would highly recommend using Mulholland Security Centers Inc.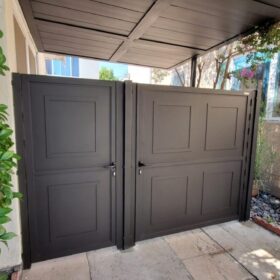 The Mulholland team was fast, very experienced, and went above and beyond the call when performing the installation to meet our needs for both aesthetics and absence of customer disruption.
I highly recommend Mulholland security for those who are considering any security improvements!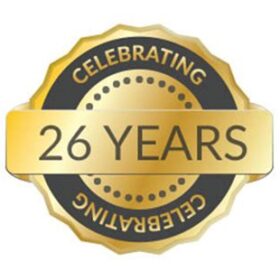 Just as an FYI, Mulholland Security, the company Diana Stiller identified and that did a security survey at the building a few months ago, just completed the security upgrade job at my personal residence that I mentioned to you.
They replaced three existing night vision cameras, relocating one of them, and added two new cameras.
All the cameras were connected to my existing GE digital recorder and integrated to operate correctly, including viewing the camera images remotely over the Internet.
The work was done in an efficient and workmanlike manner. Everything works properly. All appointments were kept and necessary rain delays were noticed promptly via e-mail so as to minimize the impact on my schedule. The jobsite was left clean and orderly. The outdoor work on stucco surfaces was properly caulked and waterproofed.
The technicians even troubleshot and repaired an annoying problem with one of the existing camera locations. They stayed until after dark to make sure the night vision worked properly and that the cameras were aimed and focused as I wanted them. There is little more they could have done to meet my expectations.
Overall, I am highly satisfied with their work and would not hesitate to use the services of Mulholland Security at the Broadway Hollywood, assuming their bid was competitive and that they possess the core competencies to handle our access control and physical security (locks, welding, etc.) issues, which I did not have an opportunity to experience or evaluate.
I have no personal interest or investment in the HOA employing Mulholland Security for our security needs. I only wish to candidly report my experience to management and the board and add to our collective body of information.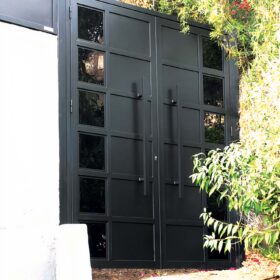 I would like to take this opportunity to thank you for quality service that I have received from Mulholland Secutiry Centers over the past year. As the manager of the College Court Townhomes, I appreciate the prompt service that you offer and the knowledge of your staff. In addition to your reasonable prices, you have always met the varied needs of this townhome complex.
I have come to rely upon your company, The College Court Townhomes is a thirty-six unit complex and I trust your staff completely with our master key. The residents of the complex have expressed their satisfaction with your work in their homes and in the common areas. Please feel free to use my name as a reference to future clients. I am confident that they will be as satisfied as I am with your service.
I wish you and the staff of Mulholland Security Centers success.
Our Company contacted Mulholland Security with a laundry list of requirements and an extremely short deadline for completion. Edward responded with a sense of urgency and dedication to getting the project done which was astounding.
All of our requirements were met within the required timeline. The quality of the work that was done was exceptional. All of the other personnel involved, from the site survey through installation and final completion, have been professional and helpful. Edward took the time to explain what they are doing and giving us plenty of options to choose from rather than a "one size fits all" solution. Their ability to work around our schedule needs surprising and showed a level of dedication to their customers that is rarely seen in this day and age.
In short, I would recommend the service of Mulholland Security to any and all others and thank Edward for his work in making sure this complex project was completed in a completely satisfactory manner.
I would like to thank you for the completely professional care that you took in surveying our campus and creating a new, from the ground up surveillance system for property.
Once approval was provided, your quick seamless installation of the new system was greatly appreciated , along with the minimal follow up and post installation adjustments that were done.
I look forward to working with you again, when the need arises.
Mulholland Security Centers has been quick, on time and very professional. We here at RED LOBSTER have used their services on a number of occasion and never experienced any problems. We would highly recommend using Mulholland Security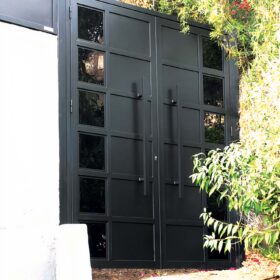 Now I know why you are the man! You are first and most importantly a nice man and I'm sure a great dad. I love dealing with good people who know who they are and then…. what they are talking about. Too many people think they know, but actions speak louder than words. Enough said there.
Thanks for being able to spend some time with me at the house. Your presentation was wonderful and informative. I expect to make something happen soon, however I must honor my prior commitments made with other security companies.
I will call you once all the estimates are put together. And yes, it's almost impossible to compare estimates because everyone does it their own way. I just am going through the motions.
Take care and God bless,
Thank you very much for the quick service! We are going to hold off on the re-key for the petty cash. For a faster payout you can email or fax me the invoice when its ready. What is your service area? I would like to use your services again in the future!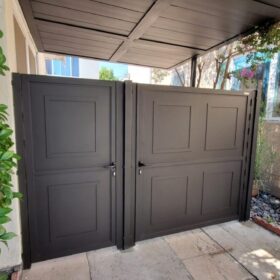 Your kindness and attention to the issues at hand have been very much appreciated.
You are a doll and a sweetheart and I truly appreciate it. I will have the finest gate in town!
Many thanks to you – you are a good man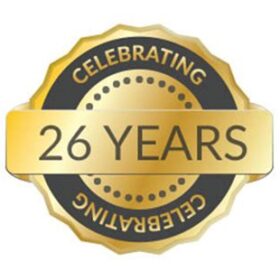 Everything went great. The gate looks amazing, it makes the whole house look so beautiful. Your nice bookkeeper called about paying the painter, and paid him the same day. I am very happy with everything . Thank you for your follow up, it is very much appreciated. Mulholland Security is very fortunate to have you.
Hope you're having a good weekend
The fence and gate look amazing – Elio and his guys are doing a great job! They are running the power to the motor today, and finishing up securing parts of the fence. They may have to come back tomorrow for a couple of hours to finish up a few small things. I'm extremely impressed and pleased with their attention to detail and perfectionism! I'll take some pictures tomorrow and send them to you.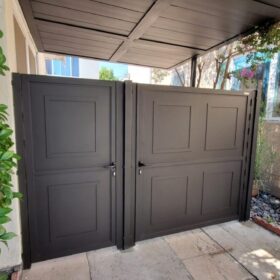 I just want to add our comments regarding our new gate located near the beach in Oxnard. The gate exceeded our expectations in every way! The manufacturing and fabrication was exact and perfect! The look will enhance our home for many years to come.
When it came to the installation, the two installers were outstanding, Robert and Gonzalo, in making sure that the fit and finish was just as nice as my experience seeing the gate in the factory. They exhibited their pride in doing a terrific job and for that we thank you.
As you can tell we highly recommend Mulholland Security if you are looking for a high quality result!
We have a new dog and for her security, we needed to close our driveway with a gate. After an extensive research, we decided to go with Mullholland Security and we couldnt be happier with the results. We were so impressed with their professionalism and efficiency from beginning to end.
Their customer service is outstanding and their work is impeccable.
Thanks Liz, Ron and team, it was a pleasure to work with you all.
We used Mulholland Gates for three gates at our home in Santa Monica. We were extremely pleased with the quality of the final product and the team there. The gates themselves are beautiful, with excellent fit and finish. I am extremely picky, and by the time they were done it is hard to find even minor imperfections quite close up. Very impressive, especially for a custom-made product that had to fit into some awkward spaces.
The other thing I would say is that the team is really good. The guys that came to do the initial install were extremely friendly, and they ended up staying until almost 8 o'clock without complaint because one of the gates ended up being a more challenging install than expected. Then when we had a few issues crop up with that same gate, their finish guy came back three days in a row to make it right. I didn't have to yell and scream to get them to do this. In fact Ran proactively came by and noticed things even I had missed (again, I'm picky, so that's pretty impressive) and he told me the finish guy would be back as many days in a row as it took to get it perfect. Clearly they all take a lot of pride in their work, and rightfully so.
Long story short, very happy all around and would definitely use these guys again or recommend them to anyone.
This is a long overdue review from me, about 4 years overdue, but better late than never:) These guys installed custom made security gates and intercom and they were the best – the quality of the workmanship and the materials used are superb. They were professional, timely and I have yet to have any issues
I hire them with confidence, you will be glad you did.