Here's a video that Harout recorded giving a brief overview of the whole project.
California Fence Contractor "Morphs" to Being Hawaii Fence Contractor!
We are a California fence contractor and nationwide gate and fence manufacturer. But, we can be coaxed out of our usual territory! Adventure and beauty gets our attention!
Don't have much time to read? A couple from Hawaii saw our gates online and "fell in love with them". These two are both highly innovative, industrious people, who seem to love solving problems!  (Just the sort of people we can easily relate to! )
We all got together over the net and figured out how to make it happen. And then, we made it happen!
Happy ending? You bet! Here's a glimpse of the finished product (more to follow!)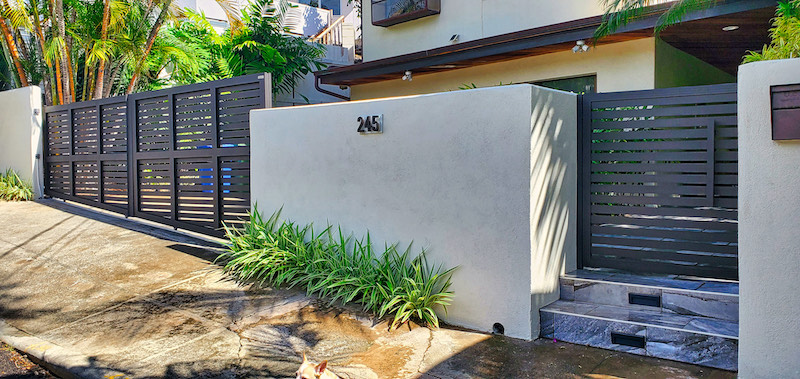 Here's their google review:

We have over 150 5-Star Reviews on Google, by the way!
And here's what the owner had to say:
The husband, Chris, worked with us to get very accurate measurements for all their work (not an easy job, in that the driveway gate is on a rather steep slope)
Look how smoothly the gate opens:
This gate is opened and closed with a very small motor, that operates on a rack and pinion mechanism (much safer than the common chain drive motors.)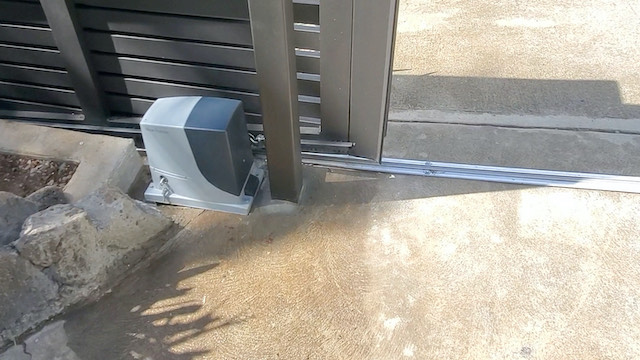 We are "many things to many people".
You can custom-made gates, fencing, railing, and pergola! Not from China, but from California! We manufacture, at our own factory!
You can get the premier material for outdoor products: Aluminum.
Whatever you see, wherever you are, we can help. You can have factory-trained specialists install anywhere in the US. We can also train contractors to install. Contractors come to us in Los Angeles, or, by arrangement, in their own geographical areas and we apprentice them on the best installation practices.
We started out in the business as being a California Fence Contractor and then we got into the manufacturing business, distributing our distinctive designs throughout the US. Once we thought that we were leaving fence contracting behind.  But it's a natural thing for us to be "called" back into the fence contractor business.
Getting a fence and gate to look just right is an art. Homes are generally all at right angles; they are all plumb and parallel. They need to be in order for things to easily come together and work right. Gates and fences, however, often have to accommodate significant changes in height and position. They can easily look disorderly if the installer doesn't fully understand the craft.
Gate and fence installations that don't look right, don't work right! That's even more important than appearance.
The homeowners speaking above are right – we are unique in our gate styles and we are the best fit for any oceanside installation. Our gates and fences will last for years with just a little maintenance. Other gate materials can't compare with the "lasting power" of our powder-coated aluminum.
We have installed gates and fences in many places. Our gates are so different than our competitors that we are their only choice. Jamaica was our previous most "exotic" location, and now Hawaii.
But we are a California Fence Contractor First and Foremost
California is home. There are many places in California that rival Hawaii in beauty. We were thrilled doing the installation. But we are just as thrilled to add to the beauty of California and to manufacture and distribute gates and fences to the beautiful places that make up the USA.
We Can Be Your Fence Contractor as Well!
We're having a sale! And, here in Southern California, our sales generally involve great deals on installations as well. (We are always specific to our local area for sales offers in installations. But don't hesitate to contact us wherever you are, if you like our styles. We'll work with you as we did with our Hawaiian clients; perhaps going to do the installation ourselves, or locating a contractor in your area.
Harout and Ran took a well-deserved brief vacation after the project, to enjoy Hawaii.