Comparing aluminum vs vinyl, and determining what is right for you between vinyl and aluminum is important. You can discover what's best for you with only a little study. There are a few key areas to consider in coming to the best decision about how you fence your yard.  You need to consider gates, available styles, security, privacy, maintenance, and cost.
Aluminum vs Vinyl Gates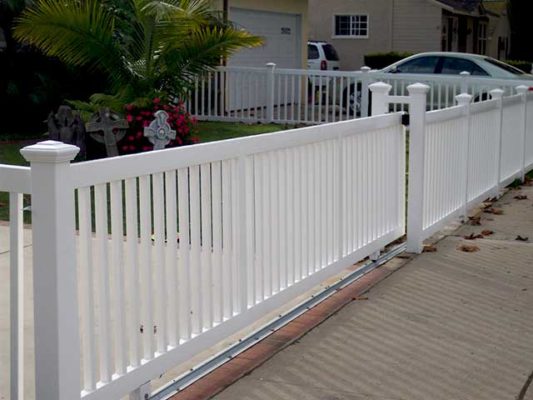 When considering whether to get aluminum or vinyl fence, there isn't a clear "winner" between the two. For example, in styles, there are some classic appearances in both categories where neither is "better".  We make the choice more on simply what we like.
But with gates, particularly for wide gates, such as a driveway gate, there is a winner: aluminum.
Vinyl does not meet the material conditions for wide gate uses. No one can make a vinyl gate as strong as an aluminum gate. Aluminum is a much stronger material.
Many homeowners require a wide gate. But they manufacture most vinyl gates in sizes from 3' wide single-swing gates to 16' wide double-swing gates. They usually construct large vinyl gates with pipe posts and frames. They then attach to them the vinyl fence panels. Installers don't normally automate vinyl gates.
We can manufacture aluminum gate sizes much wider than vinyl.  These vary from 3' wide walk gates to 30' wide slide gates. We can accessorize aluminum more than we can vinyl. With aluminum, self-closing hinges, pool latches, magnetic locks, gate operators, and access controls are all easily added on. Not so with vinyl.
Now there are properties where a 16' wide vinyl is more than enough. And not everyone wants the convenience of a motorized gate. And, although they are not so often done, they can automate vinyl. Are you in a very nice neighborhood where people respect property? You don't want a gate opener? Vinyl is an option.
Styles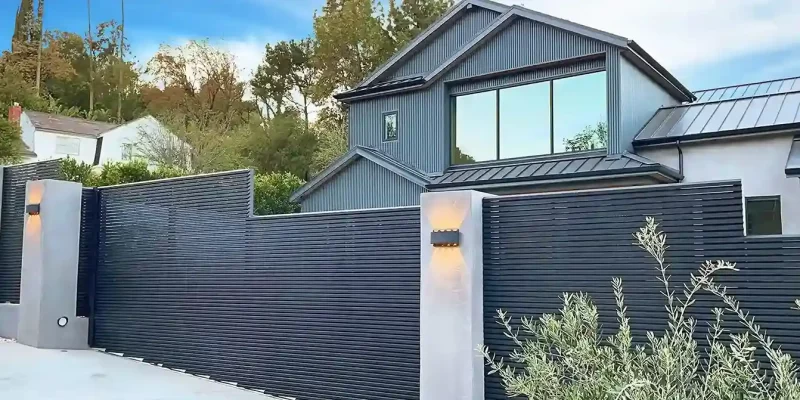 If you do simple google searches for "aluminum fence" and "vinyl fence", you see the most common styles. But there are many styles in both materials that broaden your choices.
With aluminum, you will primarily see black upright pickets with broad open spaces between them. This style emulates the wrought-iron fence that surrounded public buildings, cathedrals, and mansions of the 19th century.
With vinyl, you'll primarily see images of the white pickets. The style is patterned after the wood picket fences, painted white, that many people associate with middle-class suburbia! Wikipedia calls white picket fences an icon of Americana!
But look more closely than your first-page search engine results. You see that there are many styles beyond the norm.
Aluminum: It used to be that minor variations amongst the wrought-iron look were the only aluminum choices available. But technology has widened the possibilities. Manufacturers now form aluminum in broad panels to create privacy fencing. They can also give aluminum a very durable veneer that gives the appearance of wood. You will see the wide variation of these newer styles in our Profile 24 Series and in our modern "hi-tech" series. Also check out our glass series.
Vinyl: More styles are now available for this material as well. The most popular remains to be the white-picket-fence, but gaining popularity are the various styles of privacy fencing.
Security and Strength
Aluminum vs vinyl? Aluminum is the winner in terms of sheer strength.
Aluminum is in the first place in security. Aluminum is unquestionably stronger than vinyl. With its low weight and durability, aluminum can safeguard family and home for decades to come.
Do you want to improve the security of an office building or an apartment complex?  There are commercial and industrial grade aluminum alloys that can further boost the fence strength.
But security is a relative thing. With determination and force, someone can surmount even the toughest fences around military installations.
How much strength do you need in most residential settings? 
There are neighborhoods where the weaker vinyl fences are in great shape after many years of service. They stay in good shape. This is because they are in neighborhoods where people in the neighborhood respect property. There isn't a big criminal environment.
For many neighborhoods, the strength of vinyl fence is enough. When is the strength of aluminum the better choice? On busier streets and in rougher neighborhoods, where there is greater opportunity for abuse.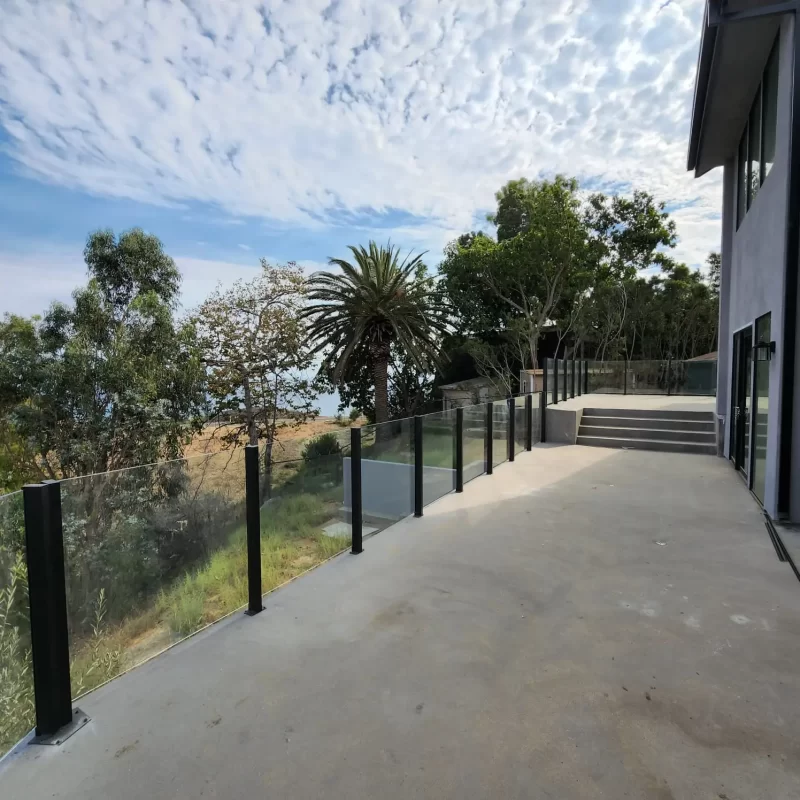 Privacy:
Aluminum vs vinyl. For privacy, it's a draw.
With fence heights reaching up to 6' and in its solid sheet form, vinyl is excellent for front and back yards. It is also great for pool fencing, and all-around perimeter fencing. It also is perfect for building on to the top of extant walls, giving greater height.
But aluminum is also great in the same circumstances!
Aluminum offers similar privacy when manufacturers add in solid panels. This is the "look" that you will see in many of the Mulholland fence and gate lines. You'll see these throughout our site.
These panels have an entirely different appearance than what you see in your google search.
Maintenance:
Both aluminum and vinyl are excellent choices for maintenance concerns.
Want to keep aluminum and vinyl as beautiful as the day you installed it? A simple occasional wash with soap and water is all it ordinarily takes.
Both vinyl and aluminum fencing is maintenance-free fencing. With both, there isn't a  need for painting and all the preparatory work for that.
You might occasionally need to clean them as you would clean your car, but it is not mandatory. And neither of these products have problems like wood. They don't warp, there are no knots to fall out, and the fence posts are impervious to rot and damage.
Here's an article explaining basic maintenance for all common fence materials.
Cost
Once again, a draw!
It all depends on the specific fencing product or style you select. Sometimes, vinyl is less expensive and in other cases, aluminum saves you money.
The cost of installation for either material is similar, relative to size. Of course, the price goes up as the size of the fence goes up! Large aluminum gates will cost more than smaller sized vinyl ones.
Conclusion:
There are a few places where there is an appreciable difference, and in the remainder, things are quite equal. Do you want a good wide driveway gate that is motorized? Aluminum is probably the best.
Do you love the white-picket gate look the best? There are similar looks in aluminum, but vinyl is the closest copy.
Is the overall toughness and durability of the fence important? Then aluminum is the far stronger material.
So, how can we help? Please give us a call or contact us through our form.
GET IN TOUCH WITH US TODAY
If you have a project in mind, would like to see our prices, or simply want to check out our inventory in person; good news.  We have factory tours and a showroom to help you plan out your current or future project. Call us up and talk to any of our friendly staff and ask us about our current schedule, or to explore ways we may be able to help you with your goals.  If you'd like to see our latest projects, explore our inspiration gallery or follow us on Instagram, where we ongoingly post our latest completed projects.
Click the live chat at the bottom of the browser window and connect instantly with our team of experts.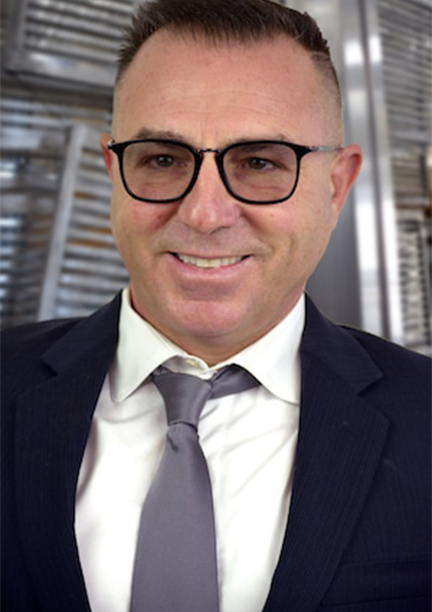 Avi Ben David is the CEO of Mulholland Brand, one of the top producers of aluminum goods in LA. He has been a part of the business from its inception in 1994 and has contributed to its growth. Avi has a solid foundation in the industrial sector from his father, who taught him the craft.
"Mulholland Brand prioritizes customer satisfaction. We're grateful for customer loyalty and thank them for choosing us."