We see plenty of great security gates and fences in our industry.   Mulholland Gates has done their homework. They've serviced the wider L.A. community for over 25 years, and their technicians have installed over 100,00gates, collectively.   Their top team members has traveled around the world and hand-picked some incredible gate and fence designs to import for the greater Los Angeles market.

The gates listed are the best of the best in 2020. We chose top security gates and organized them by models & series below to help educate consumers overwhelmed by options to demonstrate the most innovative solutions available and illustrate the solutions that are not just the latest trends, but becoming popular mainstays.   These gates were chosen for their designs, technology, owner satisfaction, and overall value.

We believe all of these features add up to paint a larger picture – choosing and designing a gate or a fence for your home doesn't have to feel like a chore – it can actually be very fun!  With a wide array of customizations and technology integrations, adding a gate to your property can raise its value and highlight your taste.
Without further ado, here are our TOP 5 security gates and fences: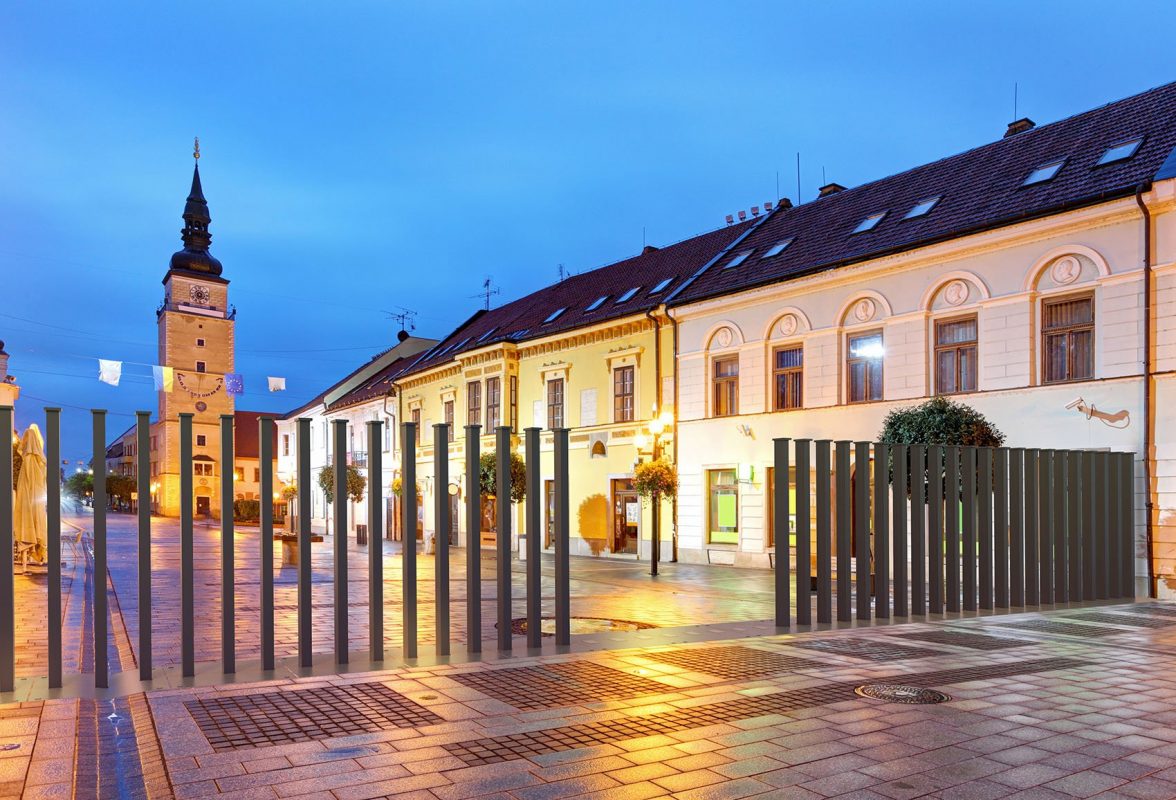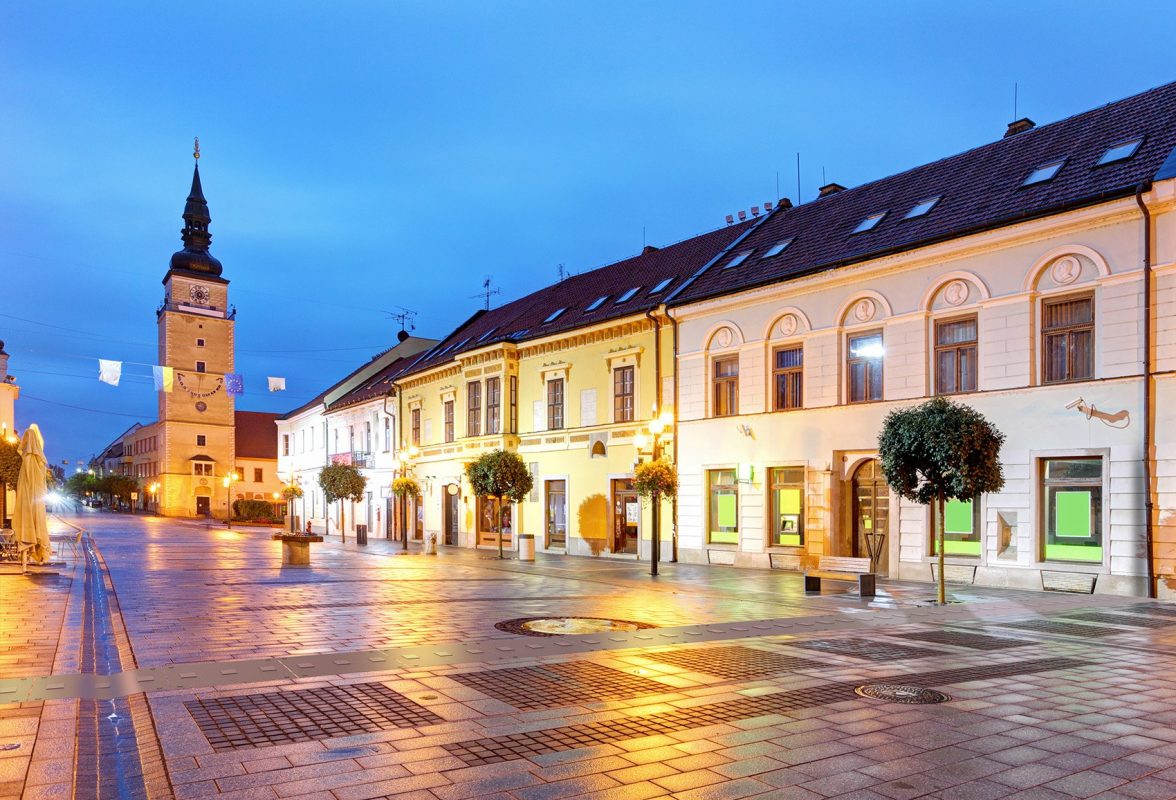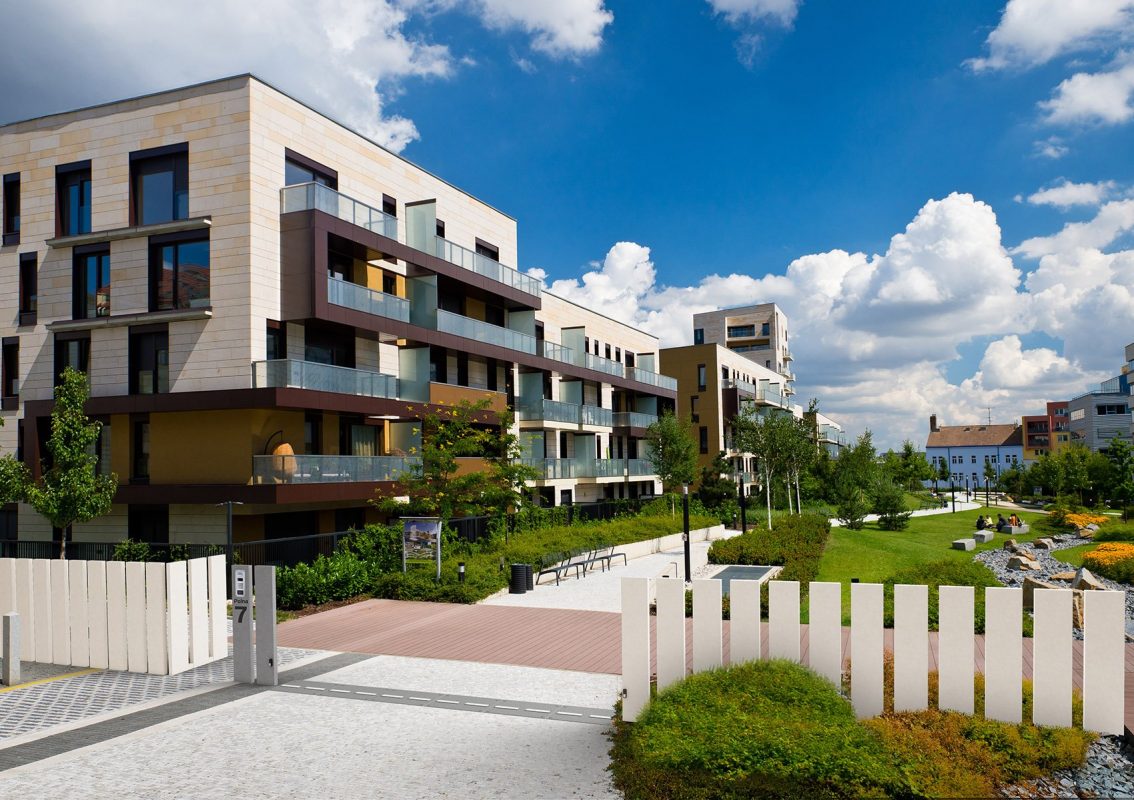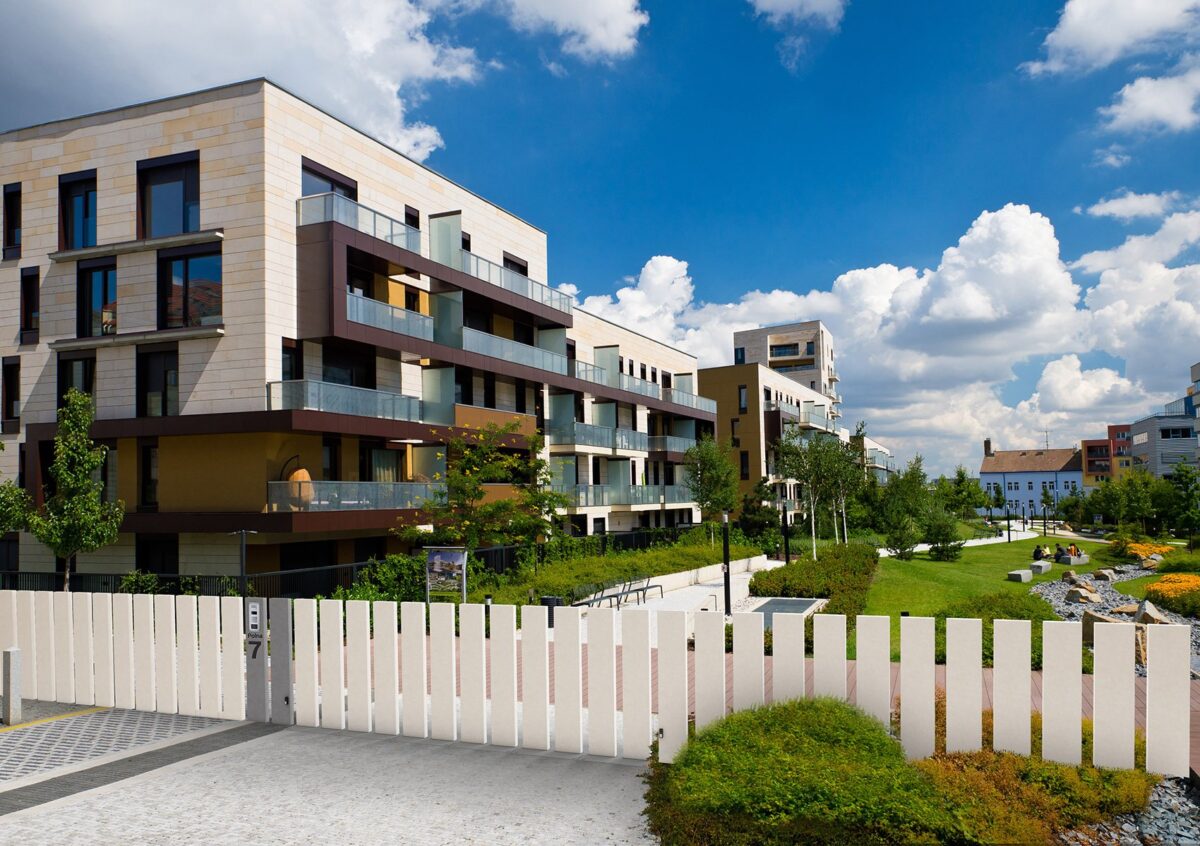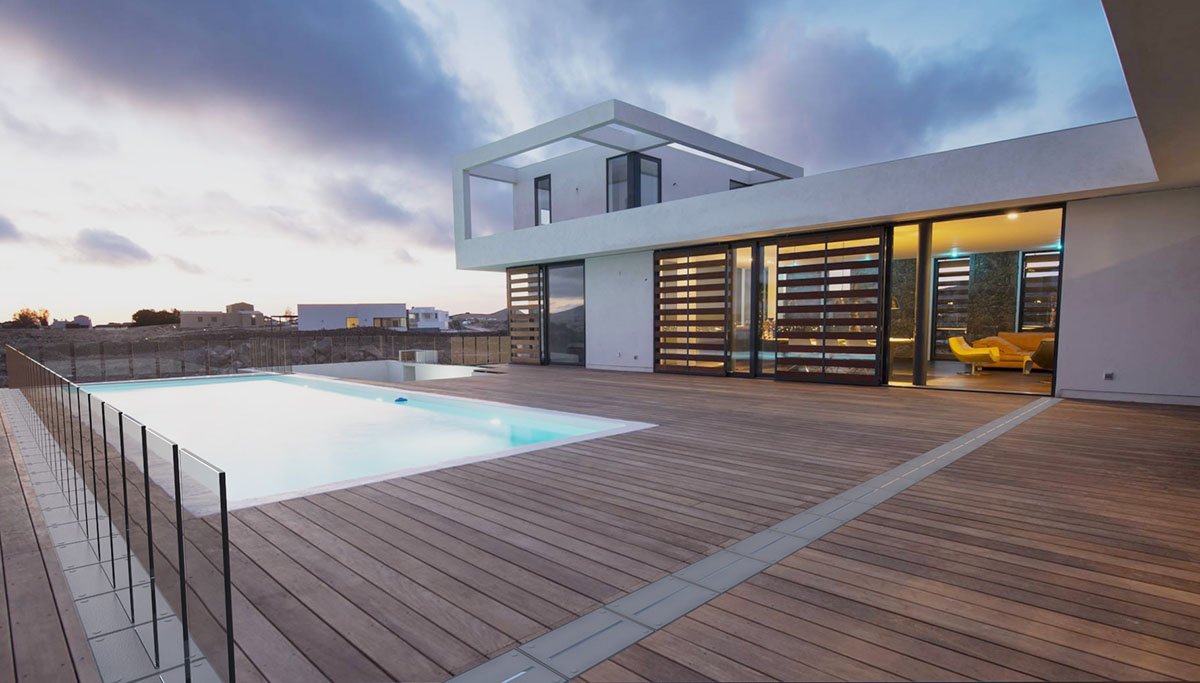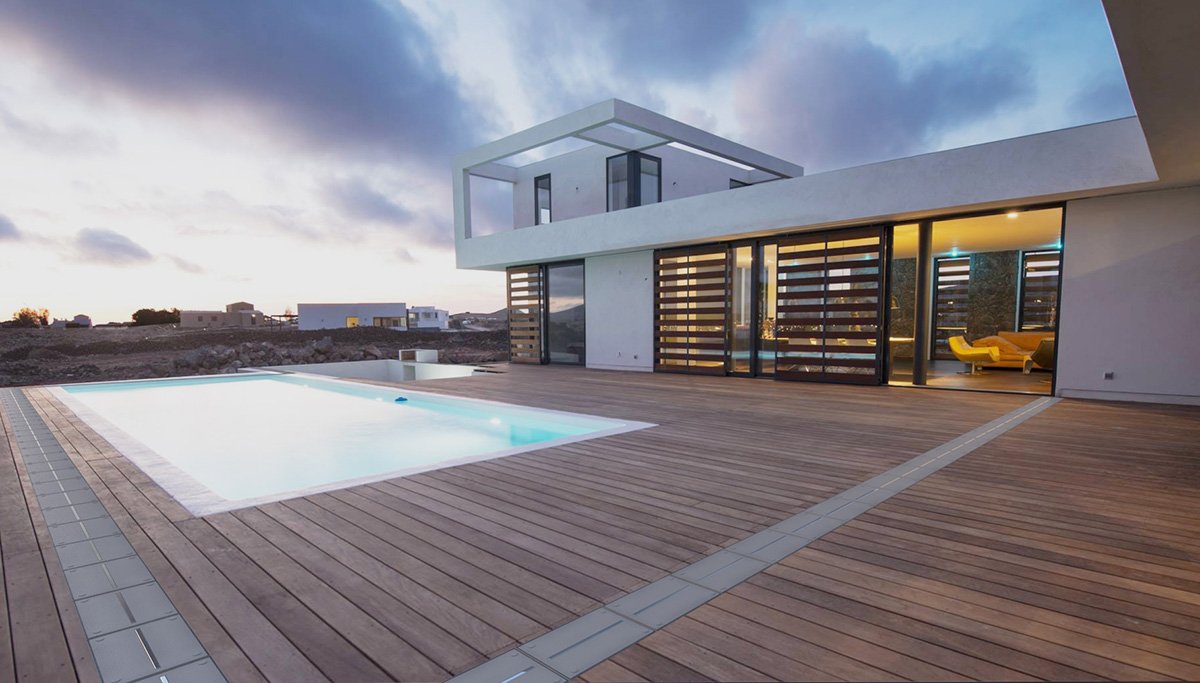 1. THE LAVISH
FANCYFENCE
The FancyFence is—hands down—one of the coolest gate we've ever seen.  Created in Poland, The FANCY FENCE system is based on gates that disappear into the ground when opened.  It can be customized for vehicles and pedestrian walkways. We were so impressed by the technology that we penned an exclusive contract to make Mulholland Gates the official dealer for FANCY FENCE the Western United States.  
This gate comes packed with features.  An "invisible" pedestrian gate, customizable open and close, customizable materials and slat configurations, and fitted with safety sensors that prevent damage or harm when obstacles are detected.  
This product is obviously not for everyone; but if you want to live like Bruce Wayne, this is the gate for you.
LEARN MORE ABOUT THE FANCYFENCE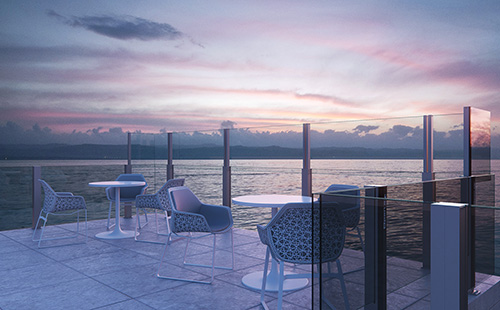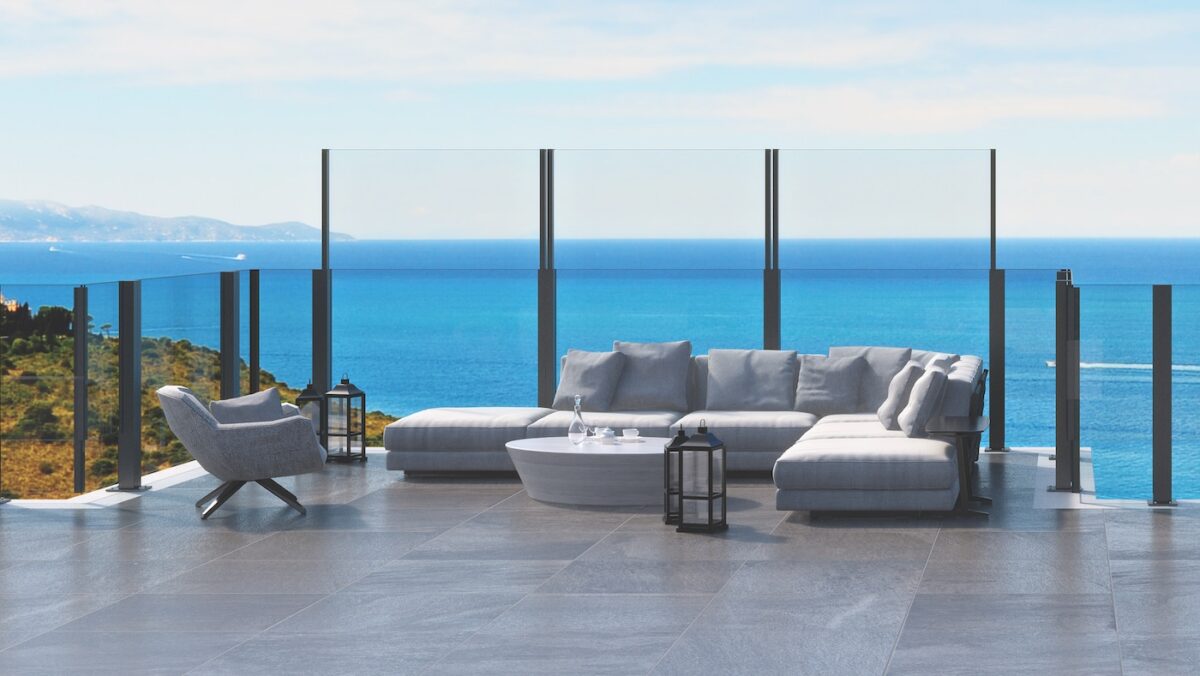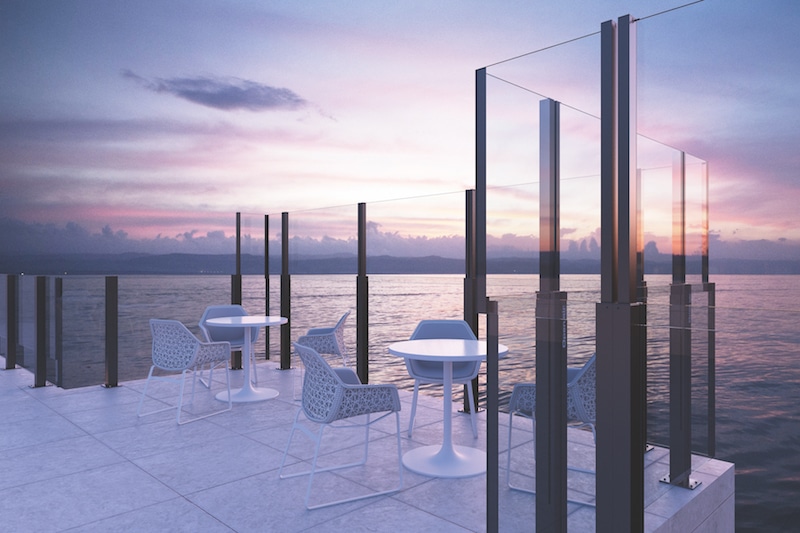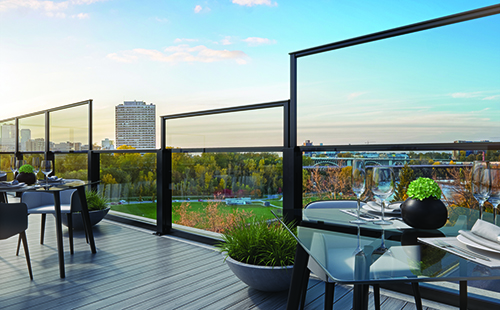 2) THE ULTRA MODERN
The OPEN AIR
OpenAir is a unique glass railing system can retract and expand electronically or on a schedule.  It's a very sleek solution for stylish outdoor spaces such as restaurants, cafes, roof gardens, patios, and mountain views.  It acts great as a windscreen, and as you can see – it looks great on beachfronts.
All models have a movable part that effortlessly raises and lowers. This is accomplished either with hand pressure or a remote, depending on the model.  This isn't the cheapest solution available, but definetely worthwhile if you are working with a budget and want to impress your guests.  It's built to last with salinity in the air, with  anondized aluminum for rust-resistance.
If security is important to you, we don't recommend this gate.  Obviously, same with privacy.  For patios, or for homes that want an unobstructed view, this is a popular solution.  But if you live naked, the world may be given an unobstructed view of your naughty bits.
LEARN MORE ABOUT THE OPENAIR
3) THE PROBLEM SOLVER
THE HILLSIDE HINGE
Being a property owner in the Los Angeles area offers unique challenges that offer require unique solutions.  Sloping driveways, one story homes, and additional variables can stack up when you're trying to secure your property effectively.  The Hillside Hinge is a great option for an automatic system that is customized for your specific driveway for a modest budget.  
Aside from property logistics, its also critical to understand HOA rules, city permits, and other safety considerations.  It never hurts to be more informed.
Before deploying a solution, setting up free consultation with an expert is a great first step.
LEARN MORE ABOUT THE HILLSIDE HINGE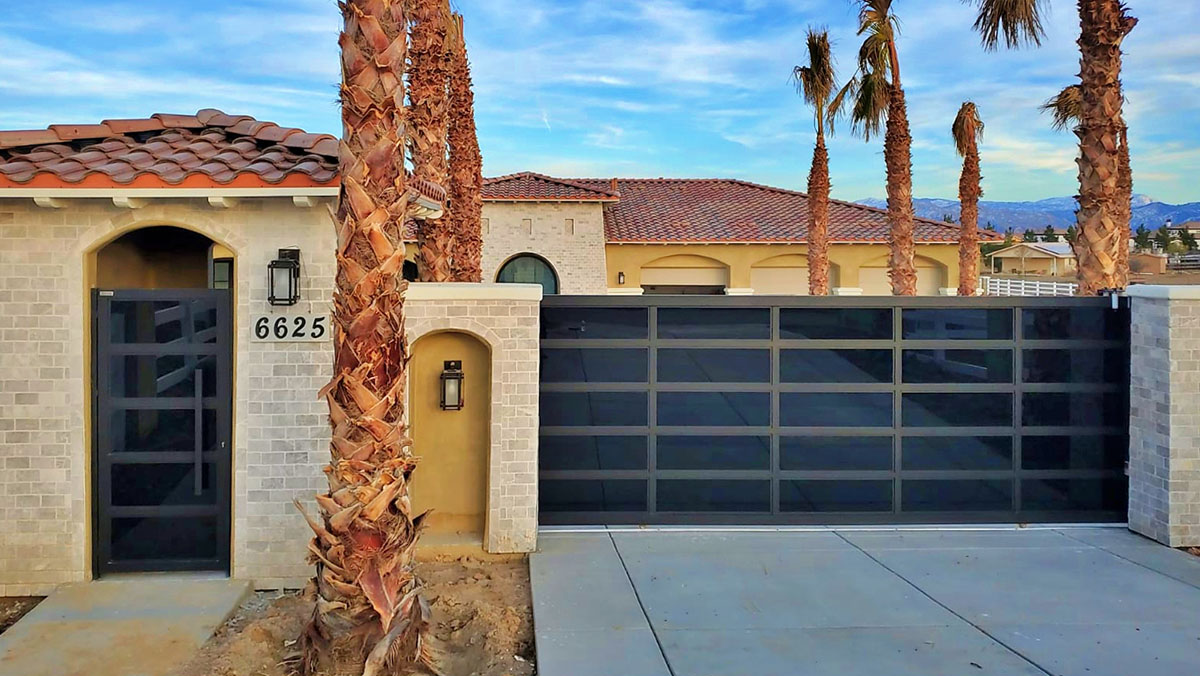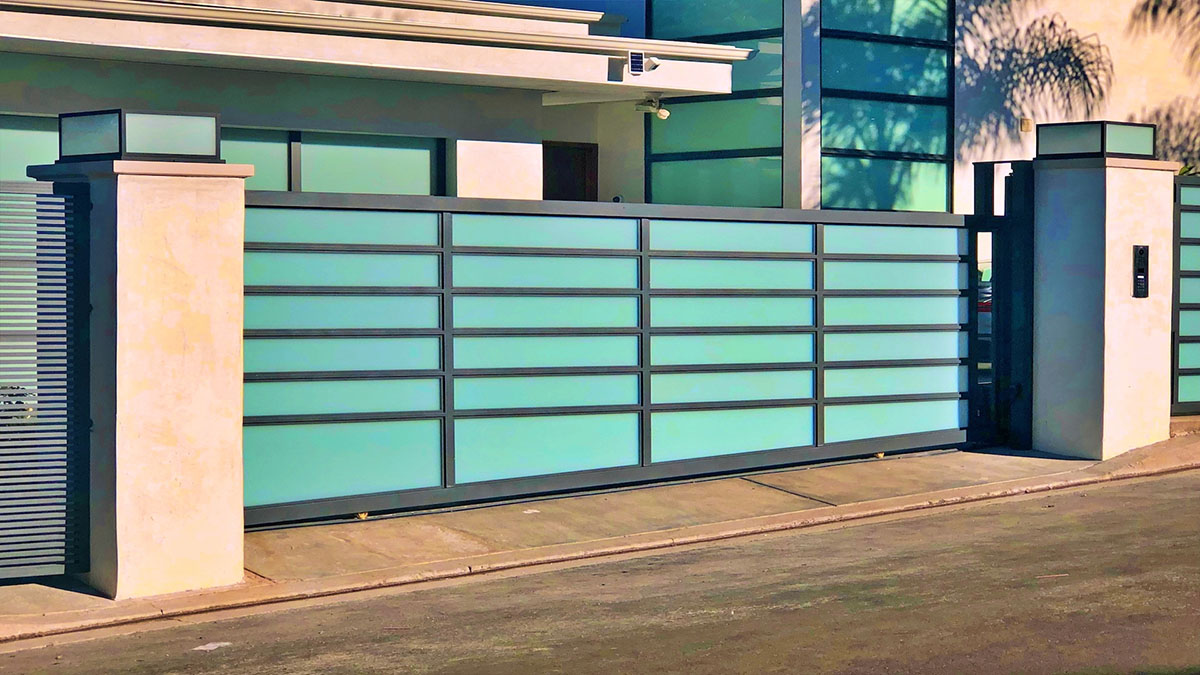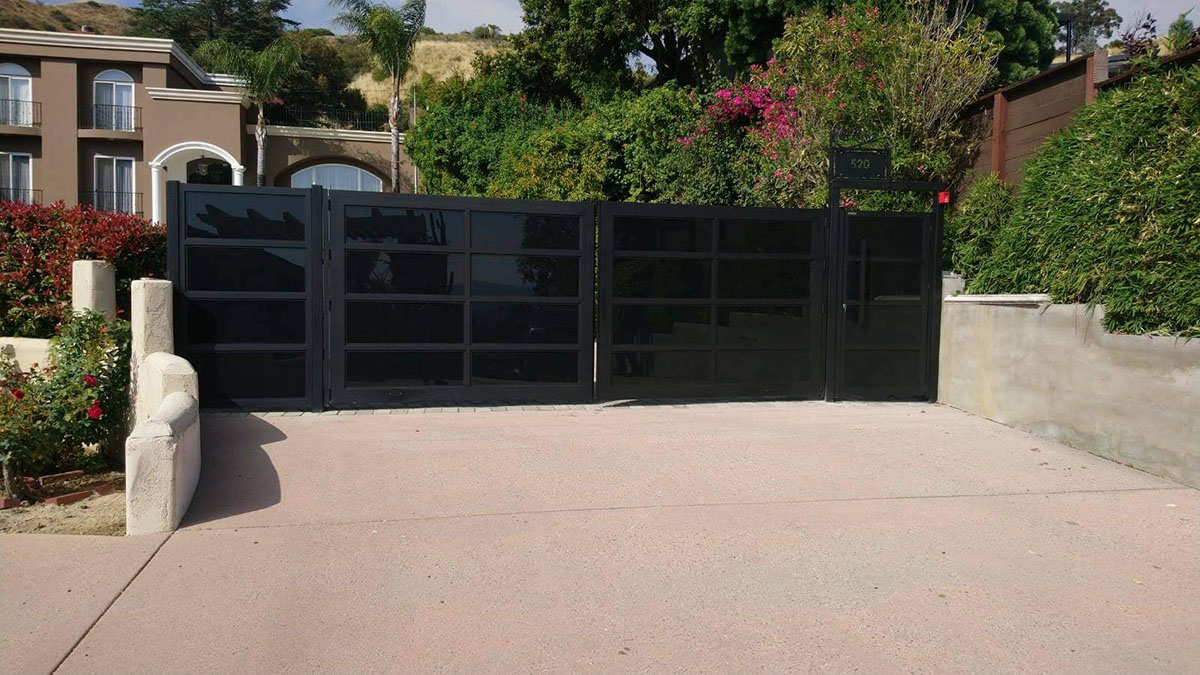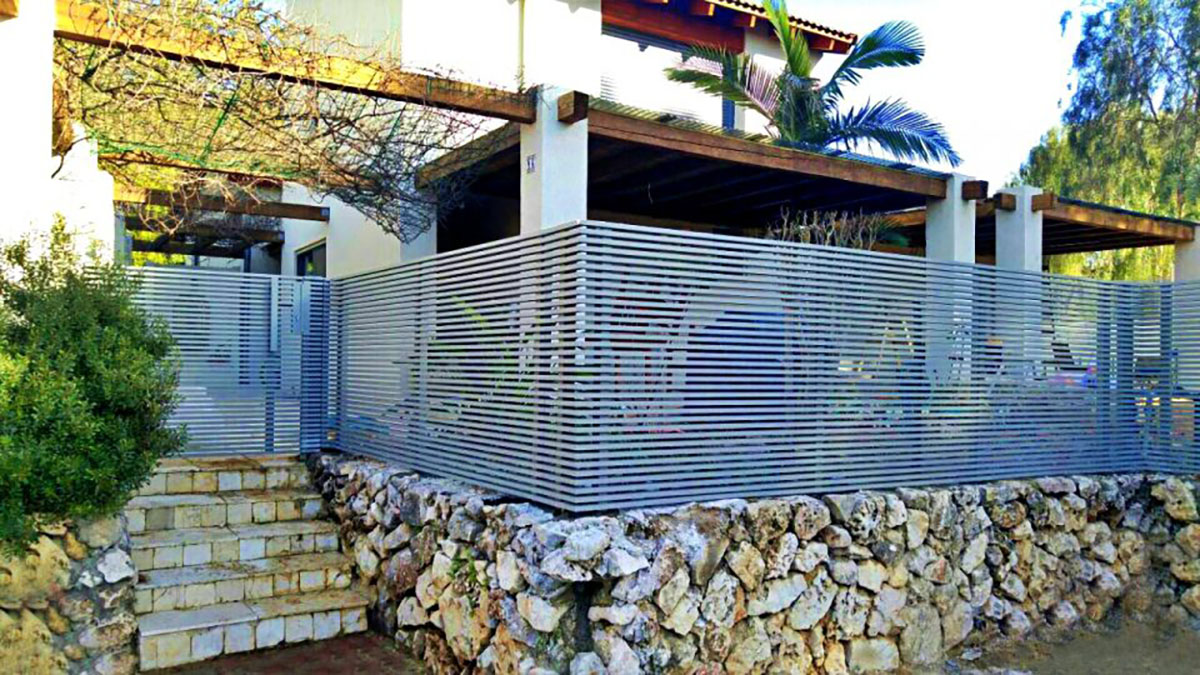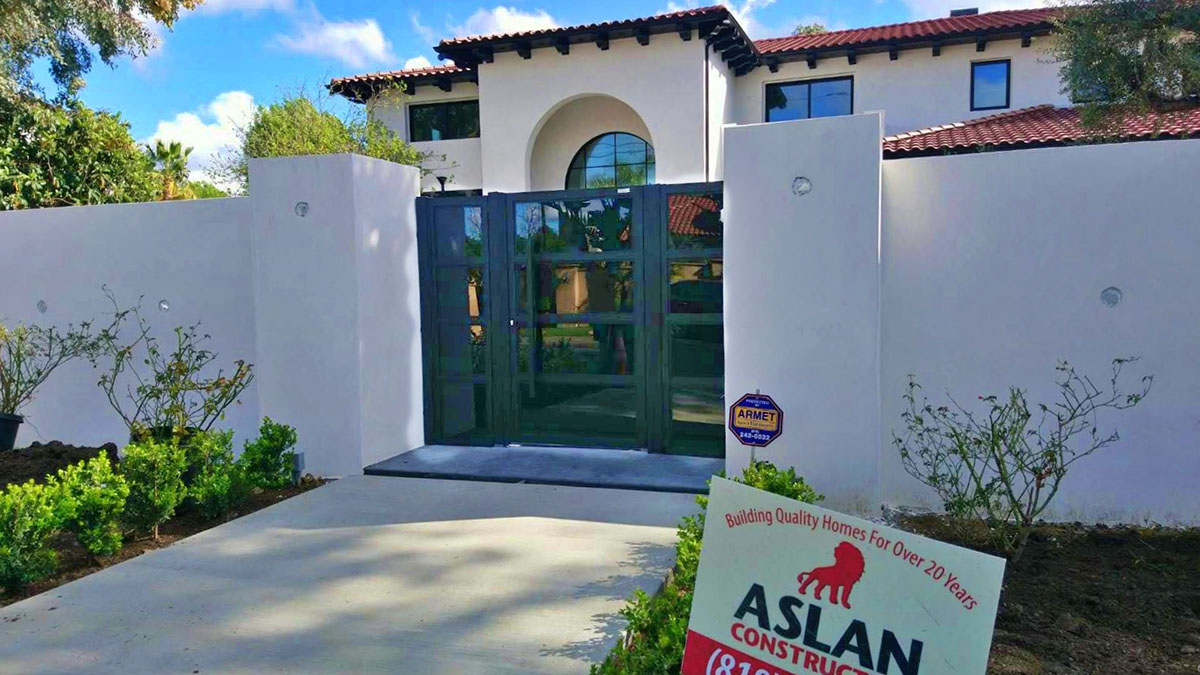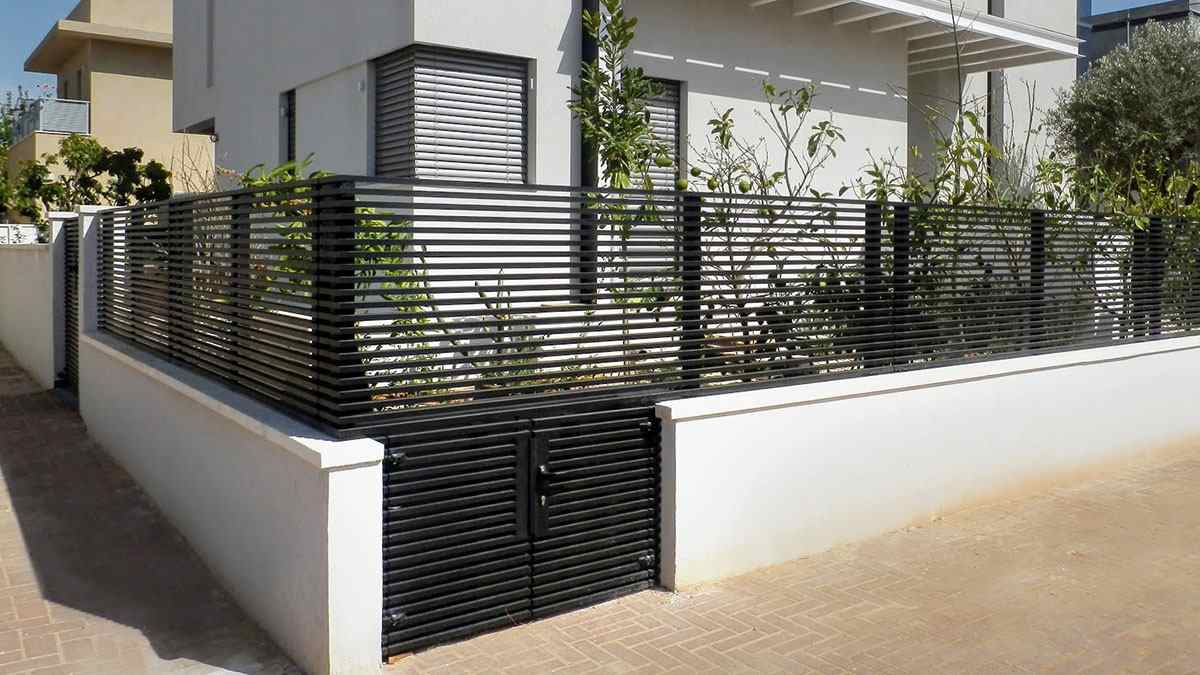 4) THE MINIMAL UPKEEP
THE ALUMINUM SERIES
Modern times require modern solutions, but not everyone can afford to have gates that magically arise from the ground (see our #1).  Aluminum alloyed gates are seeing a boom in popularity, and for good reasons. Wood deteriorates. Iron can rust. Aluminum solutions can be customized with an artisticc design that compliments your home.  With a variety of options that include privacy glass, steel, gap length, treatments and color options. The high degree of customization makes this solution ideal that meets your budget and goals. Many installations can even be completed in under a day.  
Aside from its durability, aluminum gates and fence solutions are available in many designs and wonderful combinations, adaptable to any application including hinged pedestrian gates, sliding driveways gates or side doors for aesthetic continuity.  Combining an automatic gate with smartphone technology or smart-home integrations add another level of convenience. Customers have appreciated the value of being able to check that their gate is locked from their phone to avoid needing to roll out of bed, or that moment when you're stuck on the freeway and hit with that fear you may need to turn around to properly lock up.
LEARN MORE ABOUT THE ALUMINUM SERIES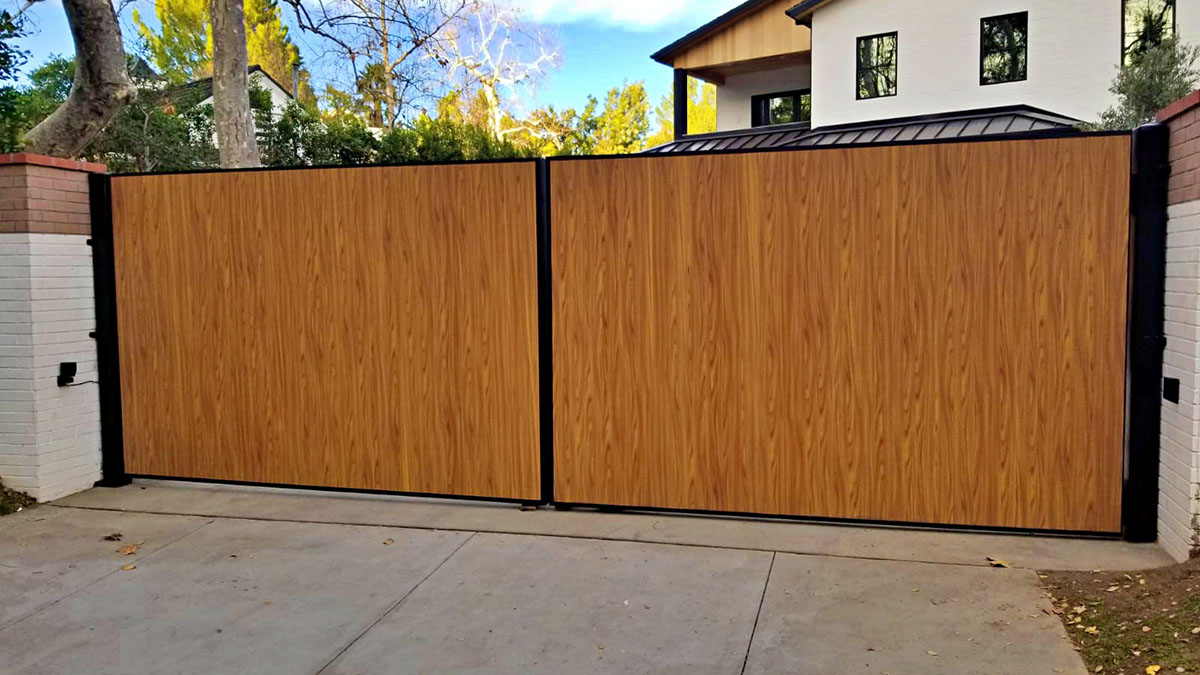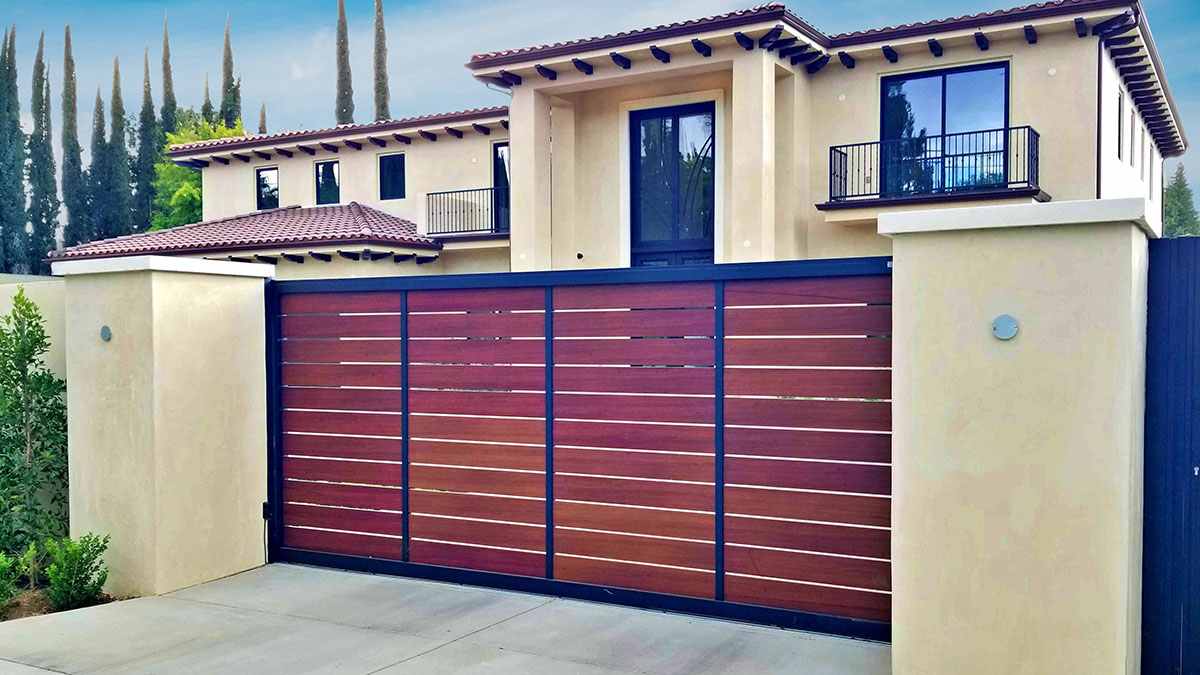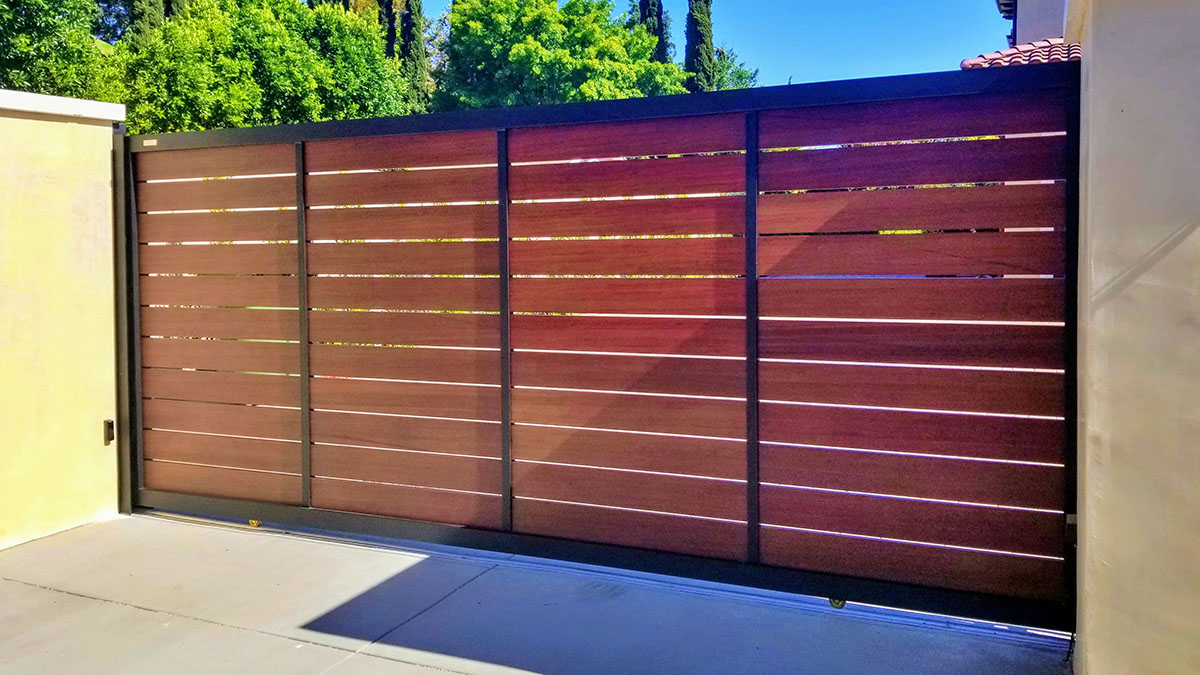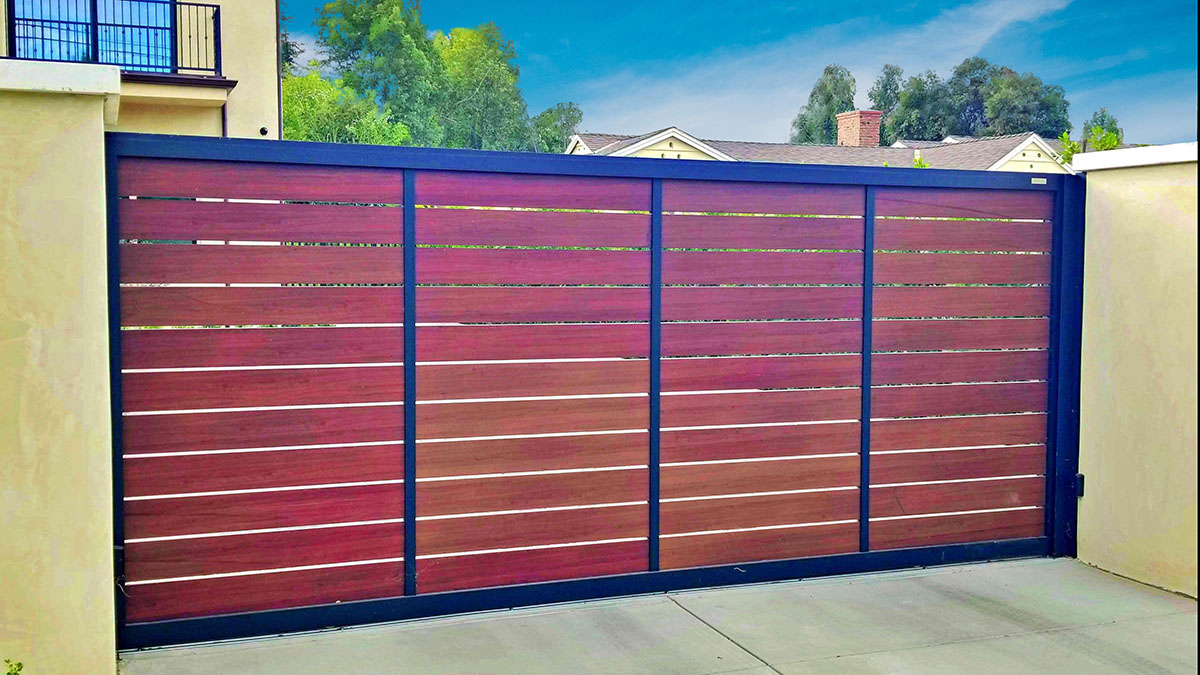 5) THE BEST OF BOTH WORLDS
WOOD-LIKE ALUMINUM
A common issue consumers complain about is that they love the look of organic hardwood textures, but they're rightfully concerned that wood takes more maintenance efforts to keep it looking its best, especially with the world seeing more dramatic weather patterns.
Wood flooring went through a transformation over the last 15 years by using alloyed particles that create a more durable, longer lasting wooden aesthetic than traditional wood floors; so its only to be expected that the same innovations would find their way to the gates and fencing market.  
Wood-like aluminum is the latest technology that finds the best of both worlds.  Durable, low maintenance aluminum/steel allows are painted with electrostatic dye, treated with seaside class that protect the finish from salinity and dulling.
They are available in a wide range of color shades, special colors and wood imitation shades.   For home owners that want an affordable, longterm solution that has a classic look and feel, this is a worthwhile investment for consideration.
LEARN MORE ABOUT THE WOOD-LIKE ALUMINUM SERIES
Ready to Learn More?
Our experts are here to help you cut through the options to find the gate or fence that is perfect for you.  Mulholland Brand has a 25 year history of building and installing gates and fences.  Talk to our friendly, no-pressure experts today.
GET A FREE, NO-PRESSURE CONSULTATION