This installation features our famous "Profile 24" series, this model in a vertical orientation. It offers a high level of privacy and protection. Here you see fencing and a sliding gate.
Our "Gate of the Month" for September 2020
Just installed! The family and neighbors are all in love with this very beautiful installation.
Why are so many people fencing their properties?
Just because it seems the whole world's going crazy, doesn't mean you have to join the crowd.
Probably the most important thing to do in tough times is keep your own composure. Say what you want about "safe spaces", pro or con, no one can argue that your home should be your place of refuge.
Simply surrounding your property with fencing and gates is one of the most basic and time-honored ways to protect your home.
Our customers tell us that the feeling of increased well-being is immediate after fencing their property. They tell us that they immediately feel more secure.
Why fence and gate your property?
Your property is more secure against burglary, vandalism, and other crime
Your kids and pets are safe from the road and play outdoors
Another layer of safety is created between the world and all the things most precious to you.
You show pride in your family and your neighborhood. You make your whole neighborhood a better, safer place to live.
Increased curb appeal means increased property value. Your home increases in value far beyond your investment.
Why Aluminum?
Aluminum doesn't rust.
Aluminum does not deteriorate, unlike wood and iron
High-quality aluminum gates, fencing, and railing will look and perform great for a long time.
Aluminum gates are lightweight, causing less stress on posts and gate operators, which can last longer.
Profile and glass combinations allow for great modern designs.
The strength and light weight of aluminum allows us to use very narrow profiles for a contemporary look, while still being strong and durable.
Use of compact gate operators (you won't have a 'big black box' on the driveway).
Rack and pinion mechanism for sliding gate (no rusted and oily chain hanging in the back and staining the concrete).
Gates, fences, railings and pergolas are finished with high quality powder coating.
Large color selection provides for additional customization possibilities.
Glass panels and inserts that are incorporated into the gate designs are laminated for additional security and can be made white, black, or clear.
"Wood-like" finish of aluminum profiles is another popular option and is available in several patterns. The aluminum profiles go through a sublimation process that is just as durable as powder coat paint to create a textured and varied look.
The customization of the gates, railings and fences is also achieved through 'mix and match' of the various profiles to create new designs and updated looks.
All standard accessories (such as safety devices, keypads, intercoms, etc.) can also be installed on aluminum gates.
We use high quality mortise locks for our pedestrian gates and can install different styles of handles, as well as discrete hydraulic door closers.
Why Mulholland Brand Fence & Gates?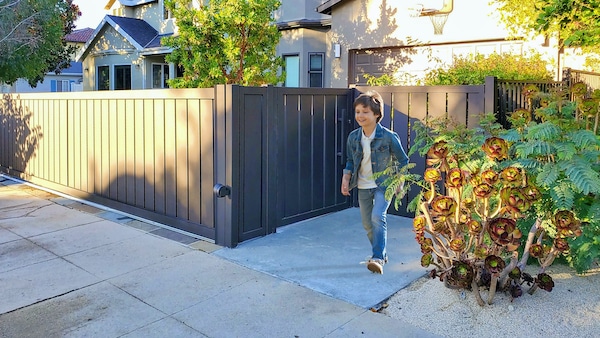 Child Friendly
Give your kids and pets a safe area to play away from the street.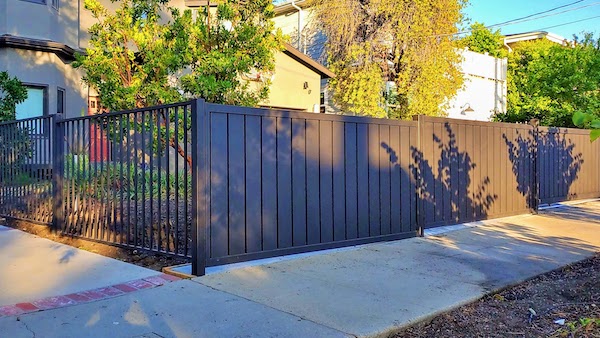 Modular Installation
You are able to modify our models to your home. This family wanted a "picket style" side fencing. We provided!
We are knowledgeable and experienced. We've been in the business right here in Los Angeles since 1994!
Locally manufactured! All of our gates, fencing, railing, and pergolas: everything we make and install is created right here in Canoga Park, a beautiful suburb of Los Angeles.
You get "made in the USA" quality and confidence.
In California, as you are "right here from the factory" after the paperwork, we are able to very rapidly have your home fully surrounded with safety and beauty.
Find out more about this particular style by visiting our "Profile 24" page!
We can modify these designs in various ways so as to create a project that is perfect for your home.
See more of the exciting Profile 24 models at the  "Profile 24" Gallery Page