Gates Los Angeles Division Presents
April´s Gate of the Month – 
Not an Illusion –
Our Hillside Gate Remains
Completely Level as Opens and Closes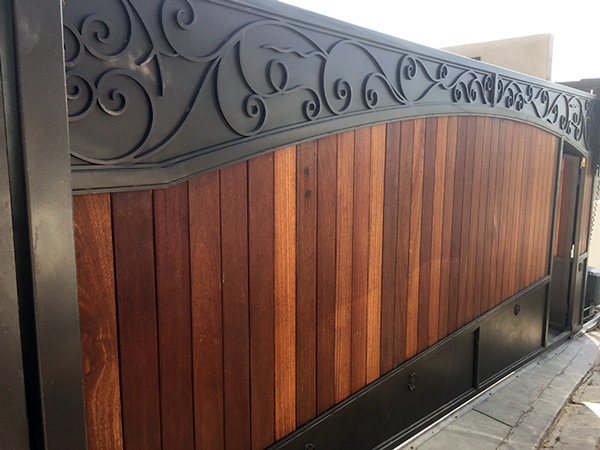 Our Gate is Perfectly Level as it Protects this Hillside Estate…"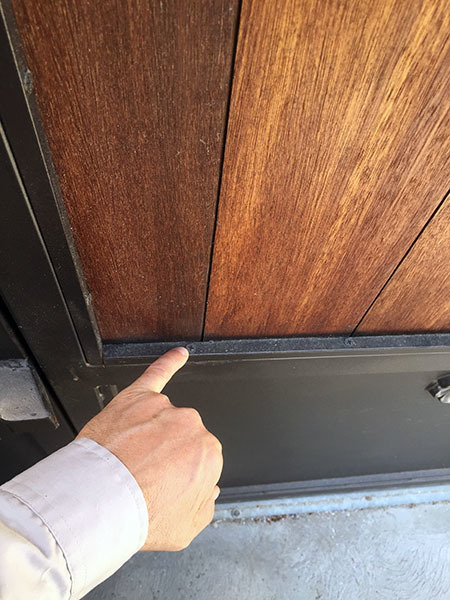 We're nearing completion of this unique gate in Beverly Hills, CA.
Hillside properties create challenges in building, and this is particularly true with residential gates. When you visit a hillside neighborhood, look around and you will get a good idea of the challenges that are there for anyone wanting to gate their property.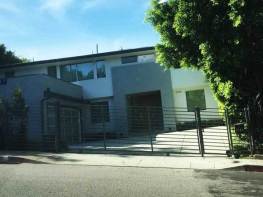 Ordinary Hillside Gate Design
Another Innovative Solution from Lighthouse Door and Gate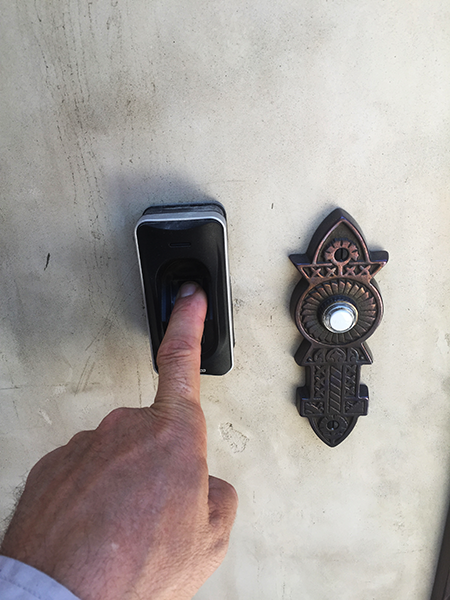 This Biometric Lock Reads the Residents Fingerprint to Allow Access.  
This project also includes a state of the art controlled access system. (This photo taken while work was still in progress. The finished project is beautiful!)
How to choose the right gate vendor?
A driveway gate gets used – and abused – more than anything else around your property.  
Constructing a Gate from A-Z is a complicated process. It requires the vendor to be very detailed oriented with all stages of gate craftsmanship, and it requires specific knowledge and experience with safety and security systems integration.  (It is not recommended to work with three different vendors on one gate project, because they will all blame the other for any and all problems – leaving you in the middle.) 
Maintaining high quality control all through the process, verifying the quality of the materials, the quality of work and craftsmanship, and staying on top of deadlines and promises to serve the client are all key to doing this business well. 
Designing, fabricating, finishing, and installing a gate, particularly for a hilly terrain, can be a serious challenge to complete correctly so that the gate works smoothly and properly for years to come.
The terrain is often overlooked and can be the cause of sinking posts, gates touching the ground and falling out of proper calibration, which then requires endless maintenance and adjustment, (we are very familiar with this as service calls to repair such gates are a big part of our business).
Experienced gate companies like Mulholland Security will save you time and money because of issues like this.
Always ask how many gates the vendor has fabricated in the previous year; they should know. Ask who actually fabricates the gate; do they outsource the work or do it in-house? Ask them how they follow up to ensure proper quality control.
How many years of experience do they have? 
Ask to see client testimonials, and reference letters; the most serious companies even have video testimonials.
Or, simply call Gates Los Angeles, a division of Mulholland Security Centers, Inc. to get started with your new beautiful gate, with a professional and experienced company, and all in-line with your budget.
Call today at: 888-562-5638
We've won Angieslist Super Service Award for 5 Straight Years and Have Been Awarded A+ Rating with the Better Business Bureau! 
"I am always available for people wanting help with their gates… and for any security project."
– Avi Ben David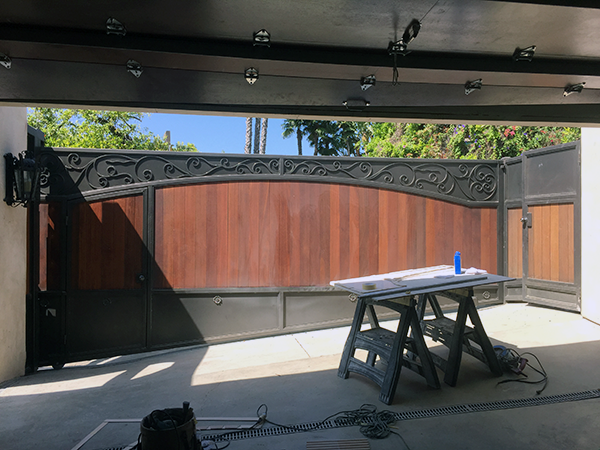 View from Inside the Property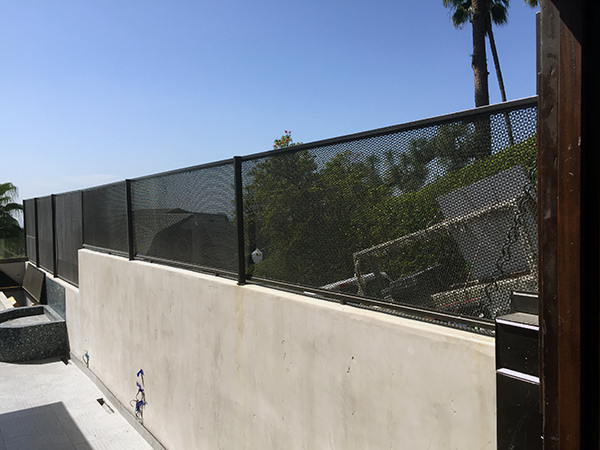 Attractive Fencing Surround the Property
Our Administrators Supervise Every Aspect of the Project and Keep You Informed as the Work Progresses
"We believe in good communication and keeping our clients posted of our progress from start to finish."
-Yael Sirota
Yael Sirota was Mulholland Security's project manager for the whole process of designing, fabricating and installing this gate.  The gate you see here is something of a "finishing touch"… Mulholland has been a big player in a full renovation of this beautiful property.
We've done a lot of security work here, including:
electronic access,
railings,
fencing,
all the door hardware
biometric fingerprint locks
intercom / entry system
secure mailbox
Which brings to mind perhaps the most important feature of working with Mulholland Security – we do all the work! You are saved all the hassle of hiring multiple contractors. 
Why Should I Have a Gate? 
Deter Burglars and Thieves
Prevent crimes and break-ins to your property
Prevent solicitors from reaching your door
Increases your property value & prestige
Provide privacy to you and your family
Keeps your kids and pets from running to the road
Increases your property value
Adds Beauty and Character to Your Home
Our Installation Team is Always Uniformed
Don't let this guy near your home & Family
Gates are a Major Deterrence against Burglars & Thieves
We specialize in all types of gates: Residential and Commercial! We fabricate gates made of stainless steel, iron, wood, glass, and various combinations of materials resulting in beautiful, durable, and cost effective custom-made gates.
We are aware of no one else in Los Angeles who has the staff, depth or experience, or capabilities of Mulholland Security Centers to design, craft, and install your custom-made gate: a gate with all the high security features; full integration of security cameras, remote viewing option on your smart phone, intercom system, safety features and craftsmanship as your team at Mulholland Security Centers, Inc.
GET IN TOUCH WITH US TODAY
If you have a project in mind, would like to see our prices, or simply want to check out our inventory in person; good news.  We have factory tours and a showroom to help you plan out your current or future project. Call us up and talk to any of our friendly staff and ask us about our current schedule, or to explore ways we may be able to help you with your goals.  If you'd like to see our latest projects, explore our inspiration gallery or follow us on Instagram, where we ongoingly post our latest completed projects.
Click the live chat at the bottom of the browser window and connect instantly with our team of experts.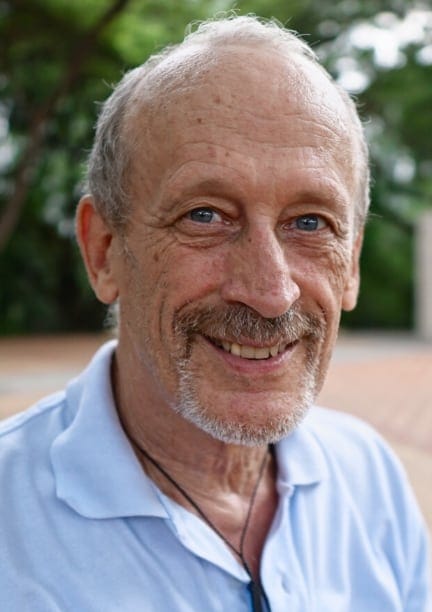 Dan's very enthusiastic about our products and is a true ambassador for our styles and quality.