We've been installing automatic gates for years
I have worked for over twenty years in the construction industry, and have supervised the installation of over a hundred automatic gates and their corresponding gate operators. I have learned through study and much experience what is the right motor for any type of gate.
I've gained the most expertise on the subject through working with Mulholland Brand over the last several years. Because Mulholland has been in the business for so long, they have accumulated a lot of practical know-how. And, because we do so many installations, the various manufacturers' representatives keep us informed about changes and innovations in the industry. This always involves a lot of hands-on demonstration and Q and A sessions.
The Basics of Automatic Gate Operators
We could write a book on the subject – a BIG book! But this article will probably answer all of the questions for 95% of our installations. By reading this guide you'll have all the information you need to understand the basics of the machines that are used to automate gates. After you read this article, you'll be able to listen to your contractor talk about this aspect of your project without falling asleep!
By just getting the dimensions of your gate (including weight) and the particulars of your installation environment, along with the information you learn in this article, you could even order your own gate operator successfully.
We suggest you don't order your own, however! In some instances, even a small mistake in measurement can throw off an entire project. Consult a contractor or a person who has successfully, at least a few times, "been there and done that" before purchasing any gate operator – or keep your receipt just in case!
This is a Brief Guide About Gate Operators and Motors
This is a brief guide to assist a homeowner in choosing a motor that will open and close their gate. It is not an exhaustive guide; I focus only on the motors for sliding and swing gates. These comprise the great majority of gates that protect residences. We will soon be publishing articles that will address other types of gates, and we will update this article so that it references those articles at that time.
"Gate motors" and "gate operators" and "gate openers" are all synonyms meaning the exact same thing. None of these terms are "more proper" than any of the others.
You will also see the word "gate actuator" in the article. That's a particular type of gate motor or gate operator.
All of these are names for a variety of mechanical devices that connect to the gate and allow you to open and close it through a button, code, or remote.  These mechanisms require electricity to operate. Each of these connects to the gate in ways that permit you to swing or slide the gate so that it opens and closes.
The Two Most Basic Styles of Gates: The Swing Gate and the Sliding Gate
There are several different types of gates, but the two basic types of gates are swing gates and slide gates. Probably 99% of the gates in the world are one of these two types.
Linked here is an article that gives a basic understanding of swing gates and sliding gates.  Note that it is not always just a preference. There are properties that would allow either of these types, there are other properties where only a swing gate or only a sliding gate is doable. So, before continuing with this article, make sure you are clear on which gate is right for your property before going further.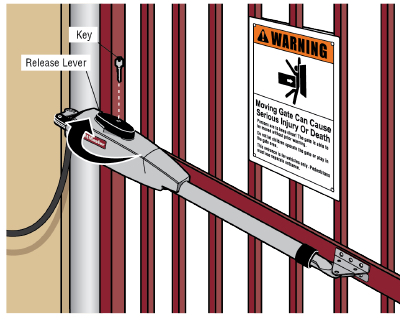 Decided on a Swing Gate?
Should it be that because of simple preference or circumstances a swing gate is best for you, you have three different choices. There are 3 types of gate operators for swing gates: 
Swing Gate Choice #1: The Linear Arm or Linear Actuator 
A linear arm motor (also called a "linear actuator" or simply "actuator")  is probably the most common type of automatic swing gate opener. You always install these on the inside of the gate. Internally there are different methods used to operate the arm, but they are primarily using a worm drive or screw jack. All of these mechanisms have one end attached to the post holding a gate panel, and the other end attached to the panel. 
The popularity of this sort of opener is due to their more affordable price and as they don't require a lot of extra room beside the gate.  
Pros: 
These have a very low profile; they don't take up a lot of extra room.

This makes them a good choice for narrow driveways where space is limited.

When you get these, most brands offer for a little more money, an optional battery backup that comes in handy when there is a power outage.

Linear arm actuators are very inexpensive compared to box motors

In those rare conditions where you need to have a swing gate open outwards, these can be adjusted to accommodate that. Our article about Swing Gates and Sliding Gates explains why you should set up a swing gate to open outwardly with caution.
Cons:
The linear arm actuators are not as powerful as the pad-mounted box motors we will be discussing next. For bigger, heavier gates, you'll likely need a box operator. 

Swing gates ordinarily have to open to ground that is not significantly higher than the ground level at the plane where the gate is closed. 

If your gate is to be installed in an area where there are strong winds, a poorly installed or maintained swing gate can be very dangerous. With swing gates we that are operated by arm actuators, we strongly suggest you install an electro-magnetic to keep your gate fully closed at all other times than when the gate is opening or closing. 
Swing Gate Choice #2: The Articulated Arm Mechanism (also known as "Box Operator" or "Pad-Mounted Gate Opener")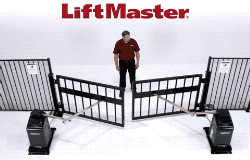 This type of swing gate operators that are bolted down on concrete pads, at the base of the gate. These work on heavier gates or on gates with larger pillars. These are the kind of circumstances where the straight arm of the linear actuator won't fit or can't go around a wide pillar. 
They are housed in big rectangular boxes, generally more tall than broad, with a hinged mechanical arm (the hinge acting as an elbow) reaching out from the mechanism to the gate. The arm pushes the gate open and pulls it closed. 
Pros:
 1. Box operators are powerful. There are models that are rated from residential through heavy-duty commercial uses.
2. These also have an optional battery backup available. We advise you pay the extra amount and get these. 
 3. Box operators can be set up and adjusted so as to be able to open and close a gate that is on sloped ground. 
Cons:
 1. Box operators require more room on the side of the driveway for installation.
 2. These mechanisms can only open gates inwards.
Swing Gate Choice #3: Underground (or in-ground) motor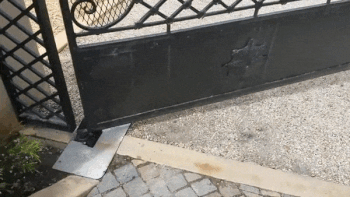 Underground (or in-ground motors) are a type of automatic gate opener for swing gates.  The motor and the mechanism that moves the gates are installed beneath the driveway surface inside of a protective case, with the drive arm connecting to the bottom of the gate.
With this operator, you get an open view of both sides of the gate. The installation requires special pivot hinges and concrete work, resulting in a higher installation cost. 
Pros:
These are barely visible, both from the outside and the inside, the extent of the operator that is visible is hardly discernable. 

These gates can be set up to open at a significantly wider arc than 90 degrees, although it is rare that you would want to. 
Cons: 
In-ground motors are more expensive than other swing gate motors

The installation requires cutting the driveway, digging an area to receive the operator, and setting the encased mechanism below the ground level.

Then there are adjustments to be done to set it all just right. This is expensive.

These are recommended primarily for lighter weight gates.
Decided on a Sliding Gate?
Do you like the sliding gate style? Do your measurements of the space available show you this is the right choice? There are 3 types of gate operators for sliding gates.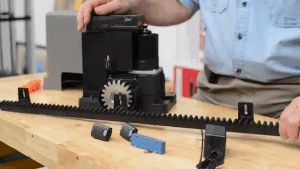 Sliding Gate Choice #1: The "Gear-Operated" or "Rack and Pinion" Sliding Gate Opener
A rack is fixed to the gate and this meshes to the gear-like pinion wheel on the gate operator. The operator turns the pinion wheel, which meshes into the rack, moving the gate open and closed. 
So long as the track that the gate runs on is straight, this works well. 
Pros of rack and pinion operators:
The rack and pinion make for a very quiet operation

The rack and pinion are covered and made from corrosion-resistant materials. They have a good reputation for requiring little maintenance with durability. 

The force of the pull is distributed along the width of the gate to reduce stress on the material

The rack can not be seen from outside the property

These are generally very small motors that require less space
Cons  of rack and pinion operators: 
Requires a more experienced installer

Requires straight track (can be on a slope)

The motor cannot be placed at the back of the track
Sliding Gate Choice #2: Chain-driven Sliding Gate Operators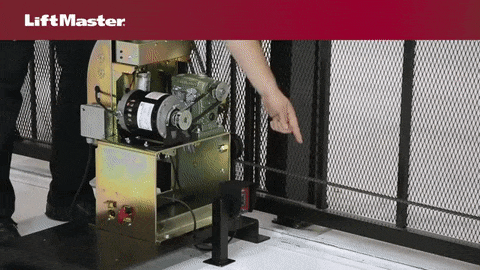 This is the most common operator for slide gates. Ordinarily, it is encased in a rectangular box and is mounted to a cement pad and positioned close to what would be the tail end of the gate when the gate is closed. The motor turns a drive sprocket that opens and closes the slide gate via a chain in a manner similar to raising and lowering a flag on a pole. The mechanism chain pulls and pushes the gate over the width of the driveway. 
Pros of chain-driven motors.  
1.) The chain allows flexibility in the level of the terrain. 
2.) There are different size motors that are capable of different size gates that can be placed at the front, middle (Allomatic) or the back of the gate
3.) Built-in battery backups are available at extra cost.
Cons of chain-driven motors
1.) The chain tends to stretch over time and needs periodic adjustment. 
2.) The chain rusts and can stain the driveway. 
3.) The tail of the gate carries the majority of the gate weight. You need to reinforce this section of the gate. 
Other Factors to Consider in Choosing Your Gate Opener
There is a few other factors that are important to consider in deciding the right gate opener. Important for all operators is the availability of electricity. Another factor is the capability of the gate and the operator to work with or against a slope. Please note that the installation of any gate and operator dealing with an incline brings about many variables and requires real expertise in the measurement of the property, the engineering of the gate, and in the installation of the gate. All this is well beyond the scope of this article.
Swing Gate Operator Comparison chart
Note that this table is not inclusive, and lists only the gate operators we use most frequently in residential and light commercial settings.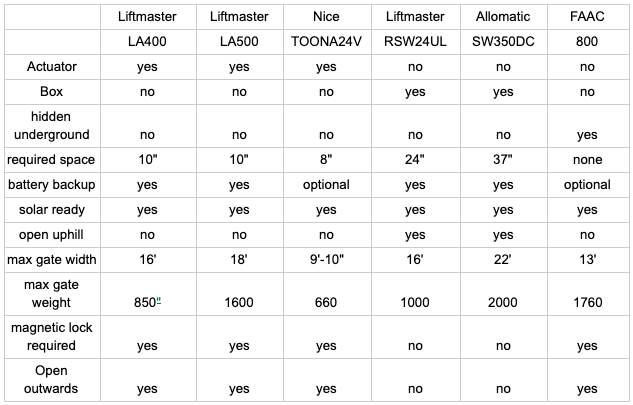 Comparison chart for sliding gate motors:
Note that this table is not inclusive, and lists only the gate operators we use most frequently in residential and light commercial settings.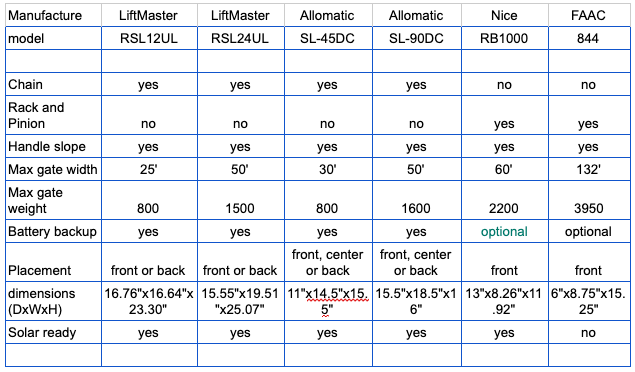 Next Steps
So, if you got this far, you probably have figured out whether a swing gate or a slide gate is best for you. It may be that you haven't decided whether wood, iron, vinyl, or aluminum is the best building material for you. You might not have settled on the style that is right for your home. Perhaps a visit to our inspiration gallery would be helpful. 
It could be that you'd like to know more about the company. Do you want to know what other homeowners have said about working with us?
If you've pretty much explored all that is pertinent on the site, and if you've still got questions, that's understandable. We're happy. to answer questions without obligation to you. You can call us 818.639.3820 and we'll do our best to answer all your questions with accurate and complete answers.
You can also complete our contact form if you'd rather not talk at the moment but want to be called back. There's also a chat box at the bottom of this and every page. During normal business hours (and often longer!) there is usually someone to talk with "live" right there. When there isn't, you can leave your email or phone number and we'll reach back speedily.

Since 1994 we've satisfied thousands of people with our products and services. In almost every customer interaction, we create better relations. In those very rare occasions where we don't, we are fast to remedy the situation and continue.
Hopefully, your our next happy customer!  Talk soon?
GET IN TOUCH WITH US TODAY
If you have a project in mind, would like to see our prices, or simply want to check out our inventory in person; good news.  We have factory tours and a showroom to help you plan out your current or future project. Call us up and talk to any of our friendly staff and ask us about our current schedule, or to explore ways we may be able to help you with your goals.  If you'd like to see our latest projects, explore our inspiration gallery or follow us on Instagram, where we ongoingly post our latest completed projects.
Click the live chat at the bottom of the browser window and connect instantly with our team of experts.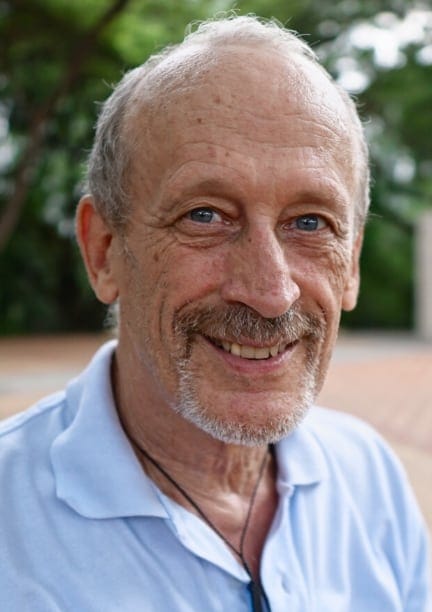 Dan's very enthusiastic about our products and is a true ambassador for our styles and quality.