OUR BIG FEBRUARY OFFERS
FEBRUARY 2021 OFFER #1
Up to 50% off! – All of Our Laminated White Glass Pedestrian Gates!
Act now to get this "sweetheart" deal on our white laminated glass pedestrian gates. Gates to this size are ordinarily as much as $2,915.00.
Offer Details:
$1,457.50 flat price includes measurement and installation (L.A. County only)
Limited supply – one per household
Pedestrian gates only. Up to 21 square feet
White laminated glass only
Mortise lock included
Side panels not included
The long, vertical handle (as pictured in the bottom left and right images) is $175 extra.
CLAIM OFFER
LEARN MORE ABOUT THE WHITE GLASS AND ALUMINUM PEDESTRIAN GATES
FEBRUARY 2021 OFFER #2
15% off Profile 24 Series Gates & Fences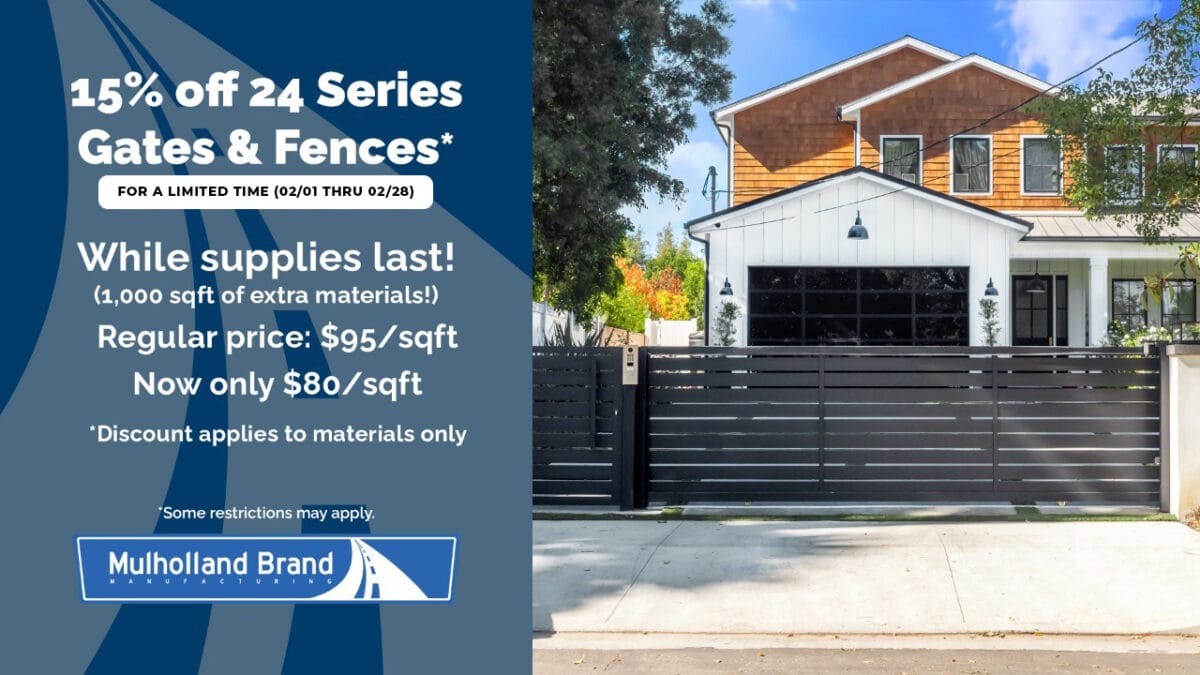 Our Profile 24 gates and fences are our most popular. Through February 28, 2021, (or until we run out) we are offering 15% off on any of our 24 Series Gates & Fences (Note that this discount applies to the materials only, and not the installation.)
The regular price of these are $95 per square foot. Now you can get these for $80 per square foot.
Our most popular styles!
We have hundreds of people who are enjoying this system now!
First come, first served.
Offer extends to our 24 Series Pedestrian & Garden Gates as well
See some of our many available styles below:
CLAIM OFFER
LEARN MORE ABOUT THE PROFILE 24 SERIES
FEBRUARY 2021 OFFER #3
30% off Gate Motors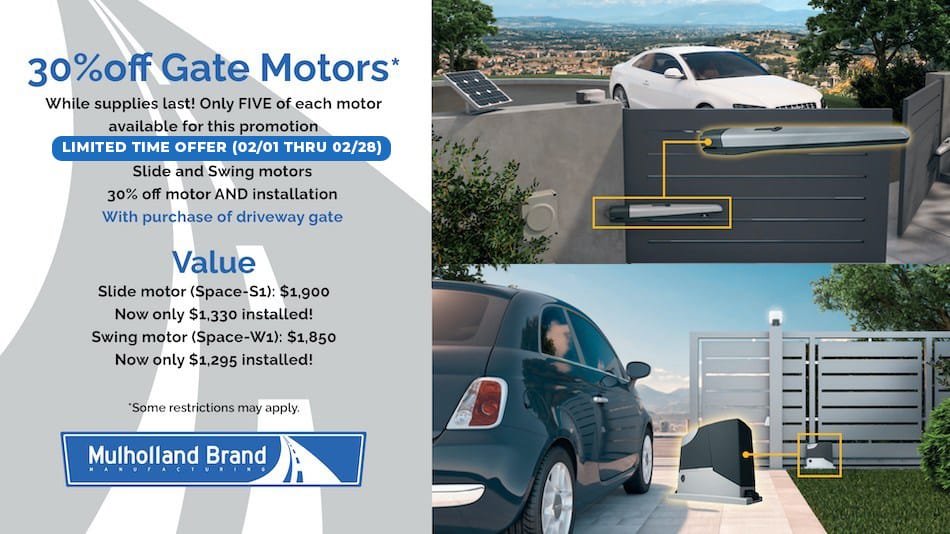 Getting a gate motor for your gate makes life a lot easier, and safer!
Our ultra-durable powder-coated aluminum driveway gates are much safer and lighter than conventional wood or iron gates. And so, the motors that we use are designed and engineered more efficiently.
We don't have the dangerous chain drives that are typical with wood and iron sliding gates. Our sliding gates are a much more discrete rack-and-pinion mechanism.
Our swing-gates are also powdered by a much more efficient motor than what powers wood or iron gates of the same size.
We're giving 30% off our gate motors. Offer details below:
While supplies last, only FIVE of each motor. Available for this promotion
Limited time offer (2/1/21 thru 2/28/21)
Slide and Swing motors
30% off motor AND installation
With purchase of driveway gate
CLAIM OFFER
LEARN MORE ABOUT GATE OPENERS
Available While Supplies Last.
Call us to Reserve Your Offer.
Mulholland Brand has a history of over 25 years, building and installing gates and fences.
Our experts are here to help you find the prefect gate or fence for you.
Talk to our friendly, no-pressure experts today.
GET A FREE, NO-PRESSURE CONSULTATION
GET IN TOUCH WITH US TODAY
If you have a project in mind, would like to see our prices, or simply want to check out our inventory in person; good news.  We have factory tours and a showroom to help you plan out your current or future project. Call us up and talk to any of our friendly staff and ask us about our current schedule, or to explore ways we may be able to help you with your goals.  If you'd like to see our latest projects, explore our inspiration gallery or follow us on Instagram, where we ongoingly post our latest completed projects.
Click the live chat at the bottom of the browser window and connect instantly with our team of experts.
Avi's career in fencing stretches back to his childhood in Israel, where he was his father's apprentice in door & window hardware. He utilizes his training in the Israeli military, where he provided residents with security tools. For more than 25 years, Avi has been leading teams of contractors & security experts to beautify & protect California properties.