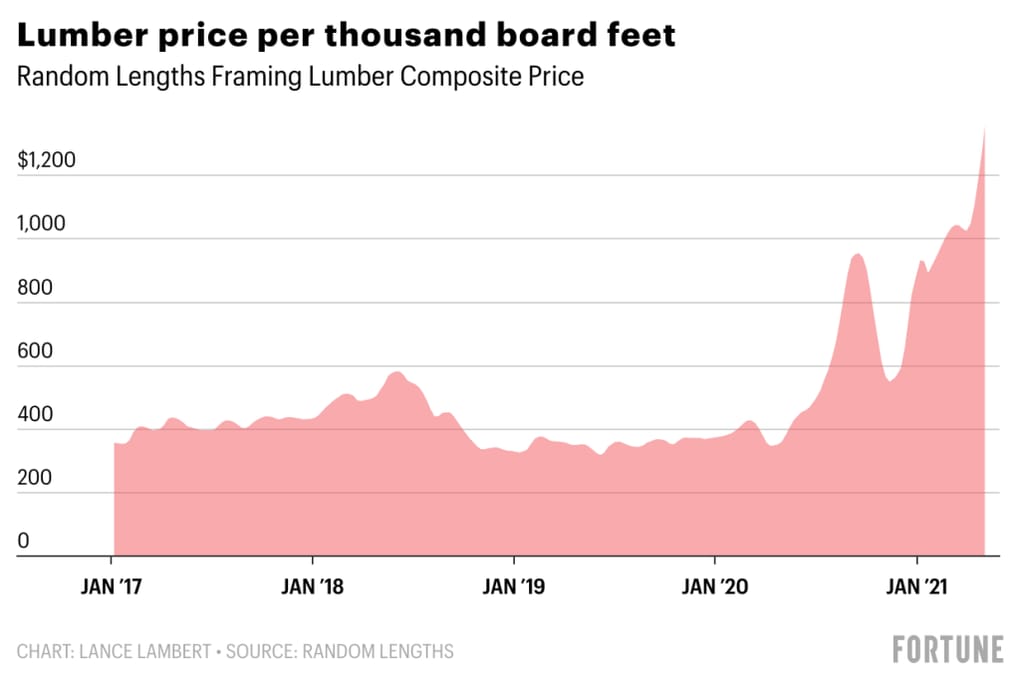 Image from Forbes Magazine Article of May 5, 2021
Forbes Magazine, May 2021 ​"The lumber shortage is getting worse. On Tuesday, the price per thousand board feet of lumber soared to an all-time high of $1,359, according to Random Lengths. Since the onset of the pandemic, the price of lumber has skyrocketed 280%..("'Pure panic': Lumber prices up a staggering 280% as builders scramble for supply)
General Steel, April 2021: "Steel prices have increased steadily every year since 2016 with 2021 looking to experience a similar steel price spike… between 2016 and 2017 where prices increased by almost 3x."
Bloomberg, April: "Stubbornly high shipping expenses for businesses are getting sealed into contracts for the next 12 months, forcing companies to pass the extra costs on to consumers"
The costs for everything in the construction industry are going up, up, up! But we are still holding our prices firm.
You probably saw it coming! And so did we.
The lucky thing for you and for us is we were in a position to do something about it because we are "in the business"!
When we saw the writing on the wall…
We bought all the fence and gate material we could…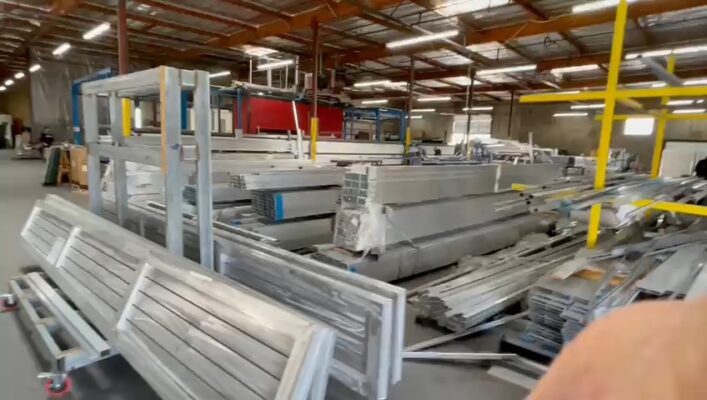 …and then we bought more!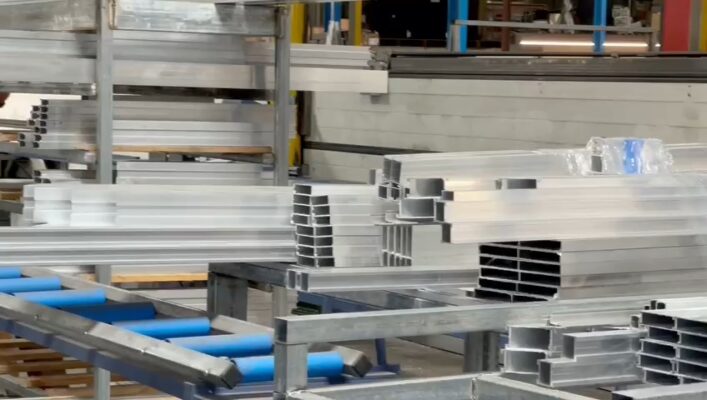 Supply curtailed due to industry shutdowns
We've been in the industry for over 25 years and have seen major swings in the market. But we have never seen such a steep increase before in such a brief span of time. The villain in this continuing drama is, of course, the Covid-19 pandemic and the resulting worldwide shut down of major industries. There's a domino effect in this where we all suffer. 
Demand increased due to privacy and security concerns
There is another factor involved in price increases than cost. That is demand. More people are wanting to fence their properties. Our clientele tells us there are two reasons: safety and privacy. Have you heard friends and family expressing similar concerns?
Google "crime" and virtually any big city and you'll see that violent crime is on the increase in many of them. We are getting more phone calls from frightened people than ever before. 
Mulholland Increased Our Supplies
We've made every effort to be proactive in saving you money. When we saw this coming, we stockpiled tons of materials in our warehouses. That's allowed us to slow the increase. You'll notice that our increases have been far less than our competitors. 
You're Getting the Best Deal Right Now
We are not sure how long we'll be able to keep your prices low.
These unprecedented pressures on supply and the increase in demand have created an "imperfect storm": circumstances that make it more difficult to get a win for either the provider or the client.
It makes the best business sense to be transparent and predictable. For transparency, we work from a set price list. For predictability, we will always announce any price increase before implementing. Sudden unwanted changes are not helpful.
Since we don't see the cost of materials coming back down any time soon, we've already created our new catalog with increased prices. However, we're holding off on rolling it out until we absolutely need to.
Don't Wait, Secure Your Property Today
During a time of high inflation, rising costs, increased demand, and crime rates on the rise, there's no better time to secure your property. We would love to serve you as a customer. We have experienced team members standing by to help you get the best value for you, your family, and your home.
Call us today to speak to one of our team members about your project!
GET IN TOUCH WITH US TODAY
If you have a project in mind, would like to see our prices, or simply want to check out our inventory in person; good news.  We have factory tours and a showroom to help you plan out your current or future project. Call us up and talk to any of our friendly staff and ask us about our current schedule, or to explore ways we may be able to help you with your goals.  If you'd like to see our latest projects, explore our inspiration gallery or follow us on Instagram, where we ongoingly post our latest completed projects.
Click the live chat at the bottom of the browser window and connect instantly with our team of experts.
Avi Ben David is the CEO of Mulholland Brand, one of the top producers of aluminum goods in LA. He has been a part of the business from its inception in 1994 and has contributed to its growth. Avi has a solid foundation in the industrial sector from his father, who taught him the craft.
"Mulholland Brand prioritizes customer satisfaction. We're grateful for customer loyalty and thank them for choosing us."