Have you been hearing more about Aluminum fence, but aren't clear on the styles of aluminum fence available, and what the differences are between them?
There are just a couple basic styles of aluminum fencing, with hundreds, if not thousands of variations.
Let's look at these basic styles of aluminum fence and explain them.
We will look at their overall appearance, and how well they will beautify your property, provide privacy, and protect your family, pets, and loved ones.
By the end of this article, you'll understand the basic styles of aluminum fence. You will see that the design styles align with different purposes. Once this is understood, you will narrow down your choices quickly.
Style Number 1: The Traditional Aluminum Fence
They designed the very first style of aluminum fence ever developed in very much the same way as the iron or steel fences that preceded it. This style is still the most familiar fence today, regardless of whether they make it from steel or aluminum.
You'll note here the basic appearance of the traditional metal fence. Vertically, there are parallel posts and pickets, the posts being significantly broader than the pickets. We place the posts into the ground with footers, the pickets, although they may touch or penetrate the ground, do not support the fence as the posts do.
Fence makers call the horizontal members rail. Their primary function is to keep the structural integrity of the fence.
Often, fence makers decorate the ends of the rails with finishing touches. One of the most well known looks much like the tip of a spear. They call these decorations finials. They cap the posts with a sphere or a flat or slightly convex cap.
There are often various decorative elements placed between the rails.
They accessorize this simple style in various ways to bring about a more ornate and decorative appearance. Note the following images.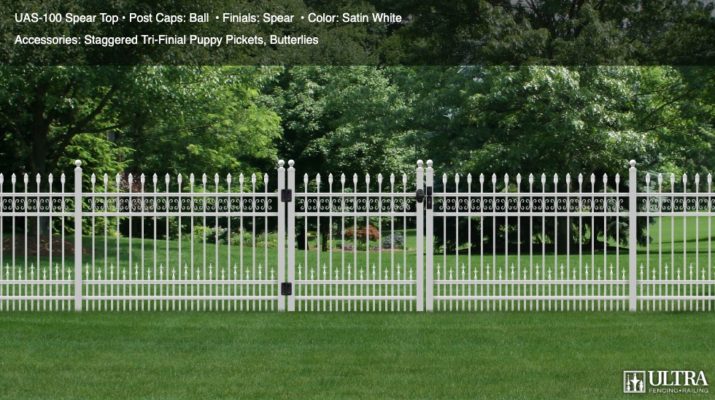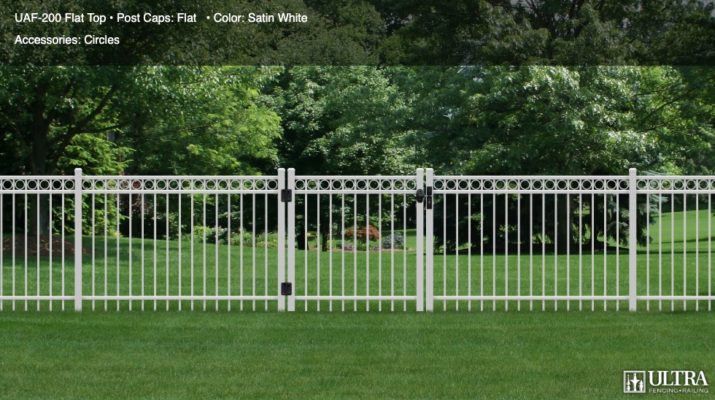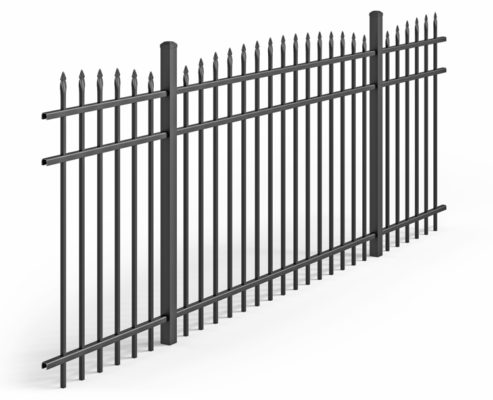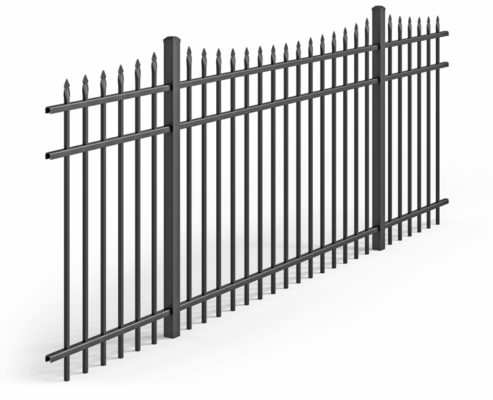 We show here just a few of the hundreds of slight variations that one can accomplish to add ornamentation to the basic appearance of the gate.
Beauty:
This will probably be the most popular aluminum fence forever. There are many homes and yards that are so beautiful that you could not persuade the homeowners to hide them, instead, they want to show them off. These are the perfect fences for such properties.
We also know that people respect these traditional fences, even when of low height, and they are much less frequently the target of criminality or vandalism than are unfenced and disorderly properties.
Protection of family and pets:
The traditional style of aluminum fences will protect your family very well. This style of fence will also safeguard your larger pets. Your smaller pets, such as chihuahuas, will need other protection measures. There's too much of a gap between the pickets for many of the "toy" breeds.
Style Number 2 The Privacy or Semi-Privacy Fence
A privacy fence is a solid fence that offers a shield from the outside world. These are typically 4-6 feet tall. But a privacy fence does not have any "see-through" gaps in their construction. They are fully solid, compared to the traditional aluminum fence that has wide gaps between narrow pickets.
A semi-privacy fence is not fully solid. Some parts of the fence would be such that you could peer through them – but with effort. (Enough effort that it would seem conspicuous.)
The difference between these two types of privacy fences is more easily pictured than I explain them.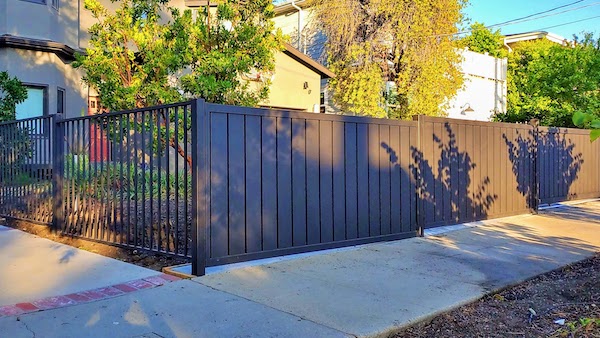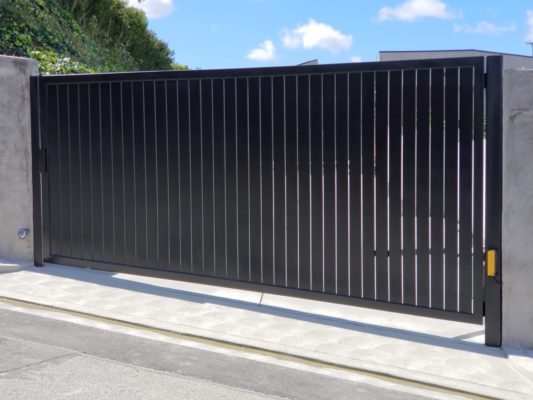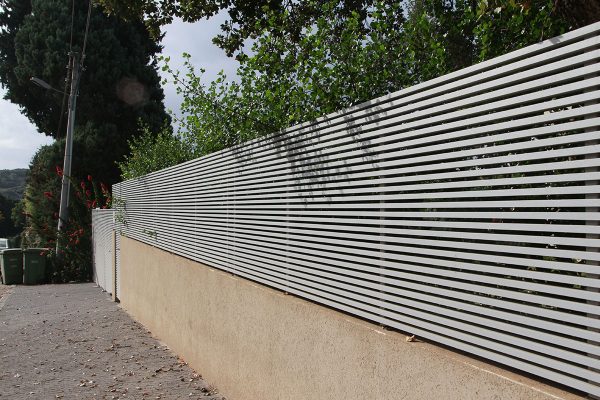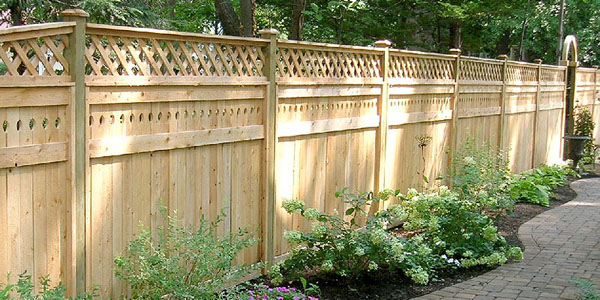 We can give extra height above the top of a privacy fence with a lattice that is open or supporting vines.
Why bother with a privacy fence, instead of a traditional style fence?
These work for a few reasons.
Privacy fences offer more privacy. (Duh?)
Both privacy and semi-privacy fences appeal to people who want more seclusion in their backyard, often around swimming pools or between a neighboring property.
We can make privacy and semi-privacy fences can from a variety of materials, most popularly vinyl, wood, or aluminum.
Both fence styles also inhibit "noise pollution". Also, not only can they block passers-by from seeing your property, but they also prevent you from viewing an unlovely surrounding environment.
The material used in fabricating the fence influences the spacing between slats or pickets, determining just how "private" or "semi-private" the fence is.
When we fabricated privacy gates from vinyl or aluminum, spacing isn't much of an issue in that we can fabricate both vinyl and aluminum in broad panels that can cover a full gate panel without a gap. We can also fabricate privacy fences from narrow profiles and place them without a gap, parallel to other profiles.
In that wood needs room to expand and contract, you don't see full privacy fences made from wood. All wood privacy fences are semi-privacy fences. This is because we purposefully construct these with gaps to accommodate that change.
Semi-private fences are more aesthetically pleasing in that the gaps break up the line of vision somewhat and give some design benefit, in many people's view.
Protection of family and pets
Both the privacy and semi-privacy fence styles offer maximum protection for family and pets. Even for your toy breeds of dog.
What to do before installing a privacy fence
Before you install a privacy fence, it's important to speak with your neighbor. If you are building on your property, it's more of a common courtesy that a legal requirement. Often you find that your neighbors are as desirous of a privacy fence as you are. You can often negotiate with your neighbor to assist you in paying for the fence and the installation.
Summing it up.
There are only two basic styles of aluminum fencing, but within those two styles there are a lot of variations. So you are likely to find the style that is just right for your home. Please feel free to continue studying about fences in our education center or  call us at the number below.
GET IN TOUCH WITH US TODAY
If you have a project in mind, would like to see our prices, or simply want to check out our inventory in person; good news.  We have factory tours and a showroom to help you plan out your current or future project. Call us up and talk to any of our friendly staff and ask us about our current schedule, or to explore ways we may be able to help you with your goals.  If you'd like to see our latest projects, explore our inspiration gallery or follow us on Instagram, where we ongoingly post our latest completed projects.
Click the live chat at the bottom of the browser window and connect instantly with our team of experts.
Avi Ben David is the CEO of Mulholland Brand, one of the top producers of aluminum goods in LA. He has been a part of the business from its inception in 1994 and has contributed to its growth. Avi has a solid foundation in the industrial sector from his father, who taught him the craft.
"Mulholland Brand prioritizes customer satisfaction. We're grateful for customer loyalty and thank them for choosing us."